If you are looking to enjoy a trip of a lifetime, what's better than a safari? African safaris are especially popular among avid travelers and tourists in today's day and age. One of the best safari destinations in Africa is Kenya. This beautiful East African country offers the most exciting safari holidays. Embark on a Nairobi to Masai Mara safari, exploring the Serengeti of Kenya, and experience a trip full of unforgettable memories.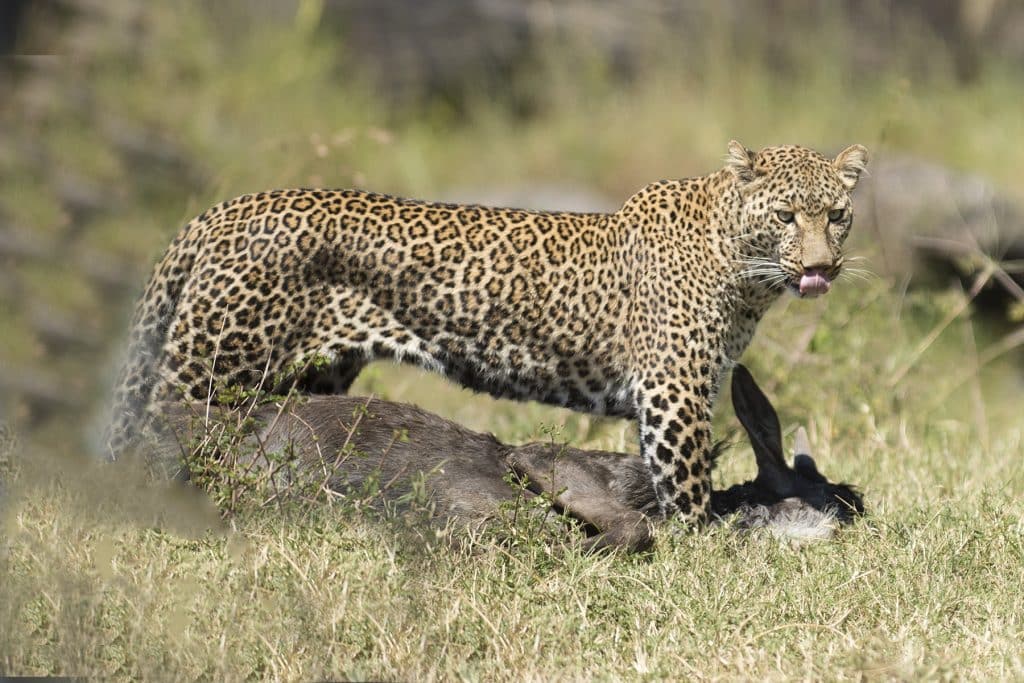 A short introduction to Kenya
Kenya is a country situated adjacent to Tanzania and bordered by the gorgeous Indian Ocean. The concept of safaris was first introduced in Kenya. There are diverse experiences one can enjoy in this country. Kenya has some of the best safari parks, reserves, conservancies, sanctuaries, and protected areas.
Kenyan wildlife is at its peak with an ever-growing ecosystem. It is one of the few places where you can experience nature at its finest. Wildlife is abundant, and a healthy population of varied animals is found here.
It is in Kenya that spotting the big five African animals—lion, leopard, rhino, elephant, and cape buffalo—is easier. A large population of plain animals is also spotted all over the country. Other than animals, diverse species of primates and avifauna are found all over the country. Traveling from Nairobi to Masai Mara for exploring the Serengeti of Kenya is highly recommended.
Nairobi
The capital city of Kenya is Nairobi, showcasing traditionality and modernity at the same time. While one part of the city is covered by nature and protected areas, the other part is filled with urbanity. Most of the safaris in Kenya embark on or depart from Nairobi. Thus, it is also called the 'Safari Capital of East Africa'.
The Jomo Kenyatta International Airport is found in Nairobi and receives flights from different countries. Once you land, you can immediately start your safari adventure to Masai Mara and other parks in Kenya.
However, Nairobi is a great destination to explore, as it has parks, museums, and shopping areas.
The Nairobi National Park, located in the city, is ideal for daytime safaris. Although situated in the city, the park is famous for its diverse population of animals, such as lions, leopards, elephants, and more than 100 mammal species.
The David Sheldrick Elephant Orphanage rescues orphaned elephants and runs a wildlife rehabilitation program. This orphanage can be visited by tourists.
Karura Forest Reserve in Nairobi offers solitude away from the city while also providing activities like hiking and biking. The Giraffe Centre, situated at the edge of Nairobi National Park, lets visitors come face-to-face with giraffes and feed pellets to them.
For exquisite dining, the Carnivore Restaurant in Nairobi cannot be missed, as it specializes in the authentic Nyama Choma, a traditional Kenyan meat dish.
Kenya is full of vibrant culture, which is best seen in the Bomas of Kenya. This animated museum celebrates the lifestyle of each tribe residing in Kenya.
This museum is the best place to learn about Kenya's tribes and their way of life. To learn more about the city, the Nairobi National Museum exhibits archives, fossils, local arts, and history.
Shopping in Nairobi is best done at the Maasai Market. These markets display and sell African paintings, hand-made crafts, jewelry, artworks, garments, shoes, purses, utensils, and more. Each item in this market is colorful and carefully crafted. Nairobi flea markets are also popular among shoppers and those interested in collecting souvenirs.
These are just a few of the exciting places to visit during your trip from Nairobi to the Masai Mara safari while exploring the Serengeti of Kenya.
Masai Mara National Reserve
The most famous safari park in Kenya is the Masai Mara National Reserve. It is often compared to Tanzania's Serengeti National Park, a World Heritage Site alive with various wildlife species. Both parks border each other and host a phenomenal event in the wildlife kingdom: the Wildebeest Migration.
The Wildebeest Migration, or the Great Migration, is an annual migration that takes place in Kenya's Masai Mara and Tanzania's Serengeti safari parks. Millions of wildebeest, accompanied by zebras, gazelles, impalas, and other hoofed animals, join this migration.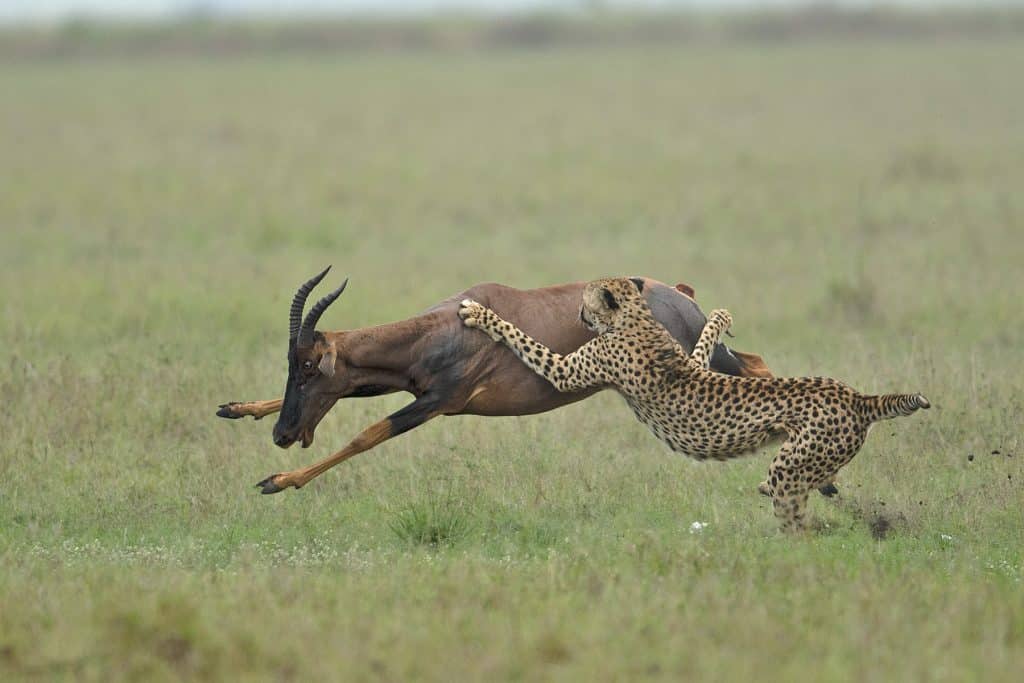 These animals travel 1000 km or 1600 miles, encountering various obstacles along the way. During the migration, it is possible to see river crossings and predator-prey action.
The animals start their journey in Tanzania's Serengeti before entering the Mara in the latter months of the year. The Mara River found in the park showcases the deadly river crossing, the most anticipated event of the migration.
Wildebeest and other animals involved in the migration cross the crocodile-infested river. Witnessing this thrilling yet breathtaking river crossing is a highlight of the migration as it showcases the survival of the fittest. Those animals who make it alive continue their journey toward the Mara.
The wildebeest migration is a must-see event that cannot be witnessed elsewhere but in the Masai Mara. The best place to see the migration is in the Masai Mara, as the park is renowned. Not only can you see the migration in the Masai Mara, but also other wildlife animals such as big cats, small cats, and a number of mammal species.
Almost 500 species of birds are found in the Masai Mara. Among them are 47 species of birds of prey, which are avid birders' favorites. Migratory, resident, common, endemic, and other species of avifauna can be found in the Mara.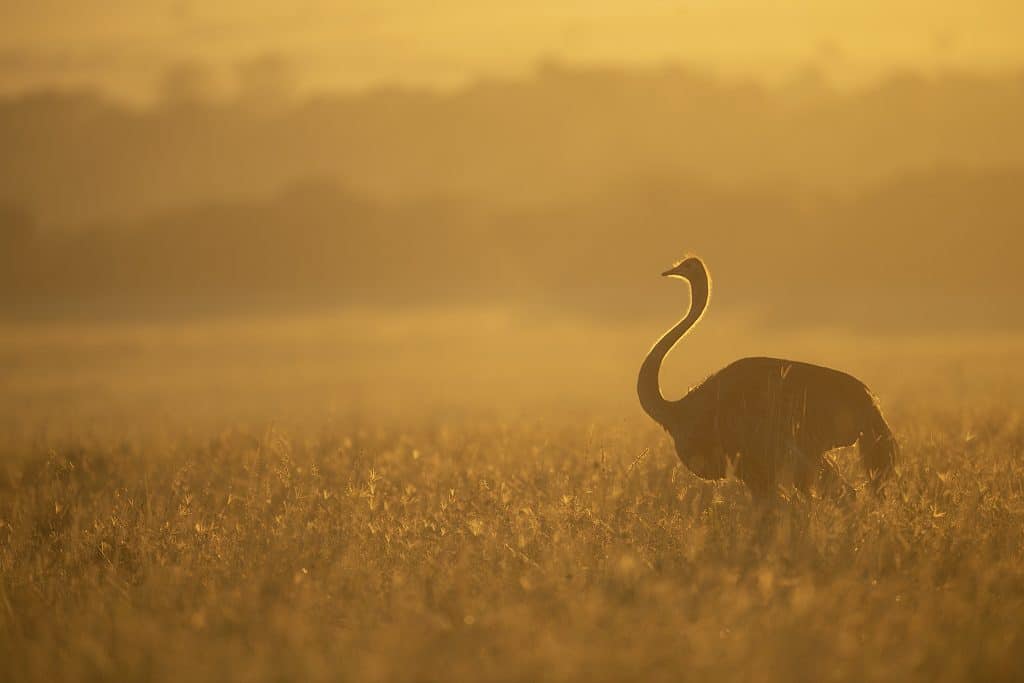 Masai Mara is dotted with acacia trees, open plains, and savannahs. Its scenic landscapes and natural habitats consist of iconic African grasslands, towering escarpments, and beautiful riverine forests.
Masai Mara also lies in the majestic Great Rift Valley, which offers unique terrain in the park. The Masai Mara plains, which make up a large portion of the park, are vast golden-hued grasslands. It is common to see animals grazing lazily or strolling in these savannahs.
The Mara's riverine forests, or its lush riverine forests, are not only home to various animals, birds, and primates but also host unique plants and trees.
The Loita Hills in the Mara are home to the mesmerizing 'Forest of the Lost Child'. The Loita Hills is a low-lying mountain range that receives fewer tourists due to its isolated and remote location. This region is also populated by various animals. Waking safaris are best experienced in the Loita Hills.
The activities to enjoy in Masai Mara
There are many activities you can enjoy during your journey from Nairobi to Masai Mara Safari while exploring the Serengeti of Kenya. Here are some of the top activities to try in this park:
Game drives – Game drives or safaris in 4WD vehicles are the best way to see the Mara. These game drives take place in the early morning, mid-morning, and afternoon.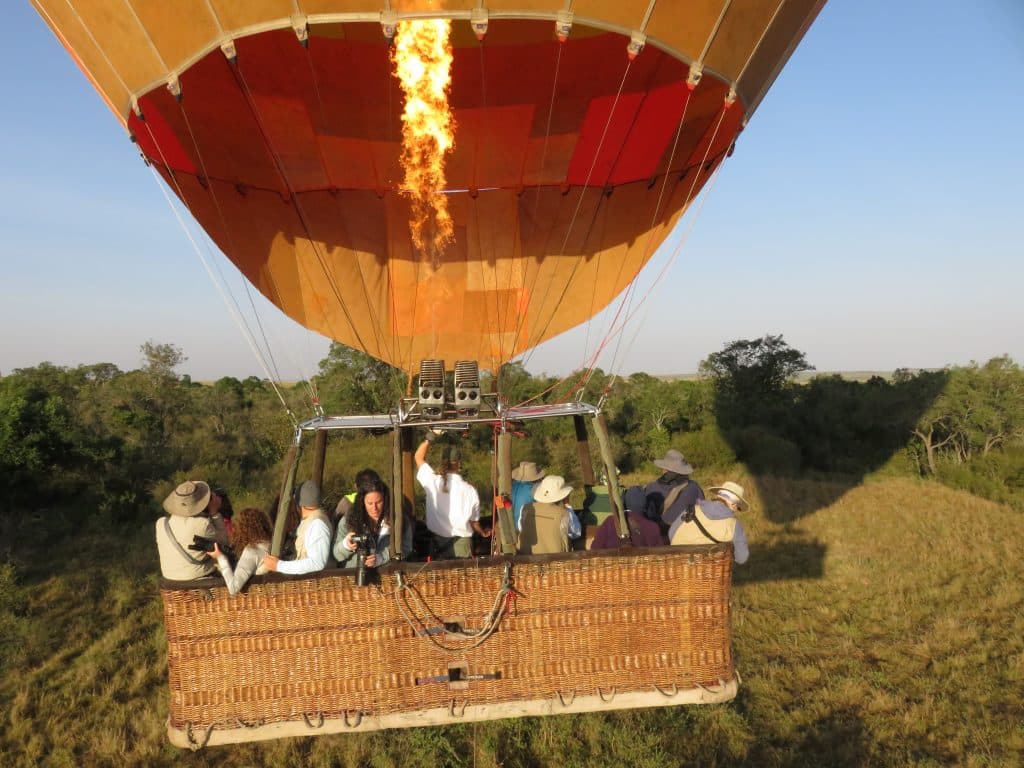 During early morning and mid-morning game drives, one can spot various nocturnal animals all at once. Afternoon safaris help you spot animal species like hyenas, cheetahs, gazelles, zebras, and more congregating near watering holes to quench their thirst.
Game drives undertaken each day let you explore new regions and areas of the Mara. Moreover, if you come during the migration season, you can track wildebeest herds and zebras to observe their journey. Game drives are accompanied by the best and most experienced guides to help you learn about the park and its animals in detail.
Maasai village visit – Your trip from Nairobi to Masai Mara safari is incomplete without Maasai village visits while exploring the Serengeti of Kenya to the fullest. The Maasais are the local or indigenous people of the Mara who are its ancestral inhabitants.
A Maasai village visit lets you interact with the Maasais and learn more about their lifestyle, culture, and traditions.
Hot air balloon ride – A hot air balloon ride or safari over the Mara reserve is a mesmerizing experience. It makes for unique and one-of-a-kind memories as you observe the park from a bird's eye. Soaring slowly above the reserve with animals grazing below you makes for a surreal experience.
Sundowners – Also called "happy hour', sundowners are simply sipping on one's favorite drink while enjoying the beautiful sunset over the African bush. This activity helps you to sit back and relax in a peaceful atmosphere while watching the animals in the savannah.
Bush meals – Bush meals consist of breakfasts, lunches, and dinners prepared in the open African savannah, overlooking incredible viewpoints of the park. Bush dinners are also accompanied by traditional Maasai dances and other forms of entertainment.
Bonfire nights – In the evening, bonfire nights are arranged where you can enjoy conversing and talking with fellow travelers. Storytelling sessions by the Maasais are also exchanged during bonfire nights.
Is there a flight from Nairobi to Masai Mara?
Yes, there is a flight from Nairobi to Masai Mara. You can choose a simple, easy, and quick route from Nairobi to Masai Mara by choosing the fly-in safari option for exploring the Serengeti of Kenya. A fly-in safari takes place from Nairobi's Wilson Airport. It arrives at one of the many airstrips of the Mara, depending on the camp or lodge where you have decided to stay.
Fly-in safaris are short and typically last between 45 and 60 minutes, making them the most suggested mode of travel. It is also much better than road transport, as it not only takes hours to reach the park, but the road conditions are poor as well. This is why fly-in safaris are best taken by those who want comfort, want to start with game drives as soon as possible, and are traveling with small kids or children.
How long is the drive from Nairobi to the Masai Mara?
It is possible to drive from Nairobi to Masai Mara for exploring the Serengeti of Kenya. The distance from Nairobi to Masai Mara Reserve's nearest entry point is 225 kilometers or 140 miles. It takes around 5 to 6 hours to reach the Mara Reserve from Nairobi.
This road trip may also include multiple stops in different spots in Kenya. These may include Amboseli, Lake Nakuru National Park, Lake Naivasha, and other scenic Rift Valley viewpoints. Traveling by road from Nairobi to Maasai Mara may also be inexpensive, cost-effective, and ideal for avid travelers.
How far is the Masai Mara safari from Nairobi?
The Masai Mara National Reserve is located 225 kilometers (140 miles) northwest of the capital city of Kenya, Nairobi. You can travel to the reserve from Nairobi either by air or road.
When to visit Masai Mara
Masai Mara can be visited any time of the year, as each new season displays diverse wildlife. However, June to October is the best time to travel from Nairobi to Masai Mara while exploring the Serengeti of Kenya.
During these months, you can witness the great migration, including the Mara River crossing. Wildlife also flourishes during these months as diverse mammal species, including the Big Five, are spotted. The weather also remains cool, dry, and favorable for safaris.
To see the green season of Masai Mara, November, and December are suggested. Although short rains occur during these months, the entire landscape turns lush and extremely scenic. This season is also a great time for birdwatching as migratory species from Europe and other regions of Africa come to the Mara.
March to May should be avoided as the reserve receives heavy rainfall. Many areas become flooded, and it becomes difficult to undertake game drives. It is also challenging to track the migration during heavy rainfall. During these months, many lodges and camps also shut down.
Additional places to visit along with the Masai Mara
Your trip from Nairobi to Masai Mara Safari is not limited to just the reserve or exploring the Serengeti of Kenya. You can also add other safari destinations in Kenya, such as:
Amboseli National Park – Famed for its huge elephant herds and picturesque view of Mount Kilimanjaro, Amboseli is yet another popular safari park in Kenya. Due to its huge size, it offers many opportunities for exploration and spotting varied wildlife.
Lake Nakuru National Park – Lake Nakuru National Park is famous for its main attraction, Lake Nakuru, which is an alkaline lake. Its highlights are the flocks of pink flamingos that frequent the lake. Colorful avifauna is best spotted in this park, along with animals like lions, rhinos, leopards, hippos, giraffes, and more.
Lake Naivasha National Park – Lake Naivasha is a freshwater lake found inside Lake Naivasha National Park. About 1500 hippos and huge flocks of flamingos are found in this park. With unique bird species to see, this lake is a birder's paradise and home to many wildlife species as well. Boat safaris or cruises on the lakes of Nakuru and Naivasha offer a new perspective on spotting wildlife.
Your dream vacation from Nairobi to Masai Mara safari and exploring the Serengeti of Kenya is right around the corner. With so much to see and do, contact a reputed travel company specializing in Masai Mara trips to plan your dream vacation.