Details
In the past, the Masai people resided in Amboseli. In 1883, Jeremy Thompson became the first European to enter the Masai region. The land was known as 'Empusel'. In the Maa language, it means 'salty, dusty place'. Thompson was surprised to see the fantastic wildlife here. He also observed the land's varied habitats. They ranged from dry lake beds to oases of swamps. These habitats are still seen today.
In 1906, Amboseli was kept away as Southern Reserve. This was done for the local Maasai. However, it turned into a game reserve in 1948. In 1974 it was declared an official Kenyan National Park. This was done to protect its unique ecosystem. The park has been designated a UNESCO site. It has gained this status since 1991.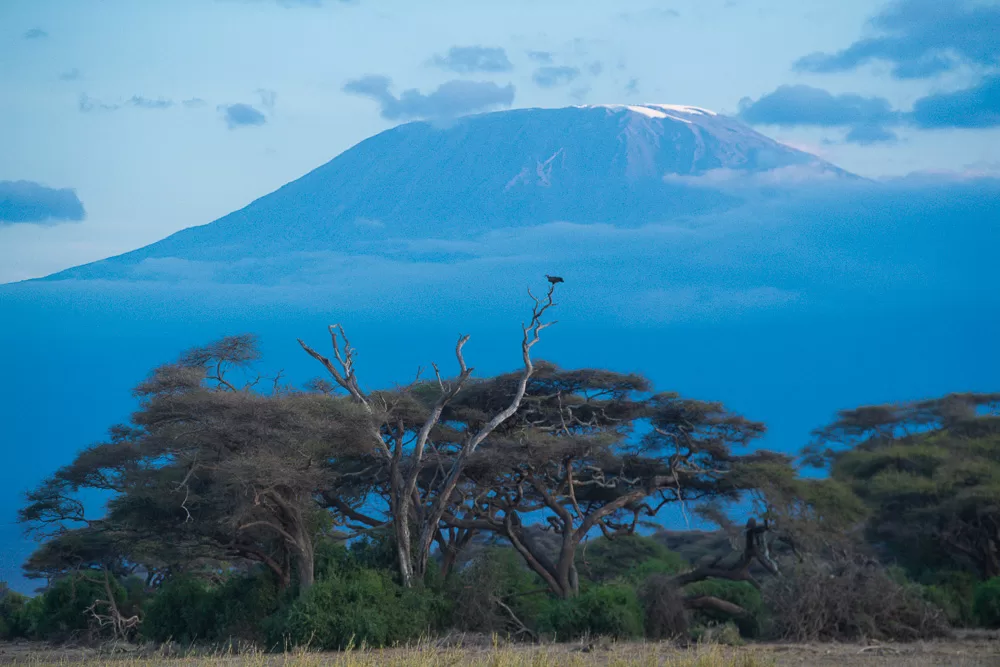 Wildlife and Birdlife of Amboseli
A safari at Amboseli will allow you to feast your eyes upon the animals with the beautiful Kilimanjaro as a backdrop. Thus, this safari can also be called a Kilimanjaro safari. The main attractions of the park are the large herds of elephants. You can watch the African bull elephants amble past you and you will surely have a good time. These magnificent animals can be spotted foraging in the swamps. The park is also home to species of cape buffalo, impala, lion, cheetah, spotted hyena, Masai giraffe, Grevy's and Burchell's zebra, wild dog, and blue wildebeest. The Black Rhino may have become extinct here but the other four of the big five thrive here. Amboseli is also a great birding destination as it houses more than 600 species of birds. The swamps are home to egrets, herons, pelicans, and crowned cranes while the grasslands harbor Hartlaub's bustard and the Pangani longclaw.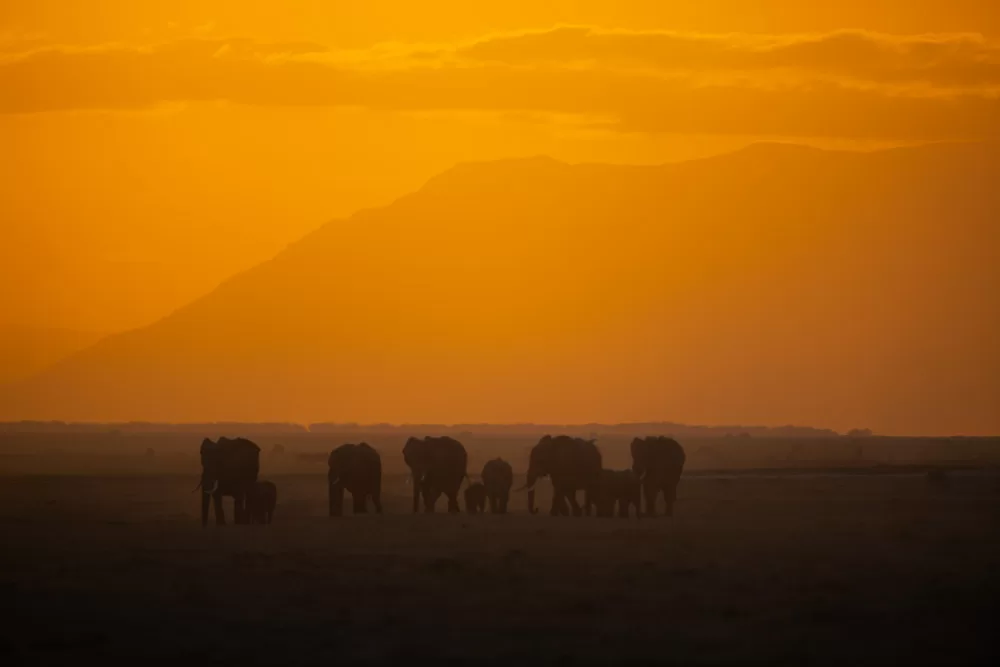 Vegetation:
Amboseli National Park is situated in Oloitokitok District. This district is found in the Rift Valley province. The park has five distinct habitats. These include open plains, acacia woodlands, and swamps. It also has rocky thornbush and marshes. One can also stumble upon sulfur springs here. The park has contrasting vegetation. On the one hand, it has arid land. On the other, it has swampy springs.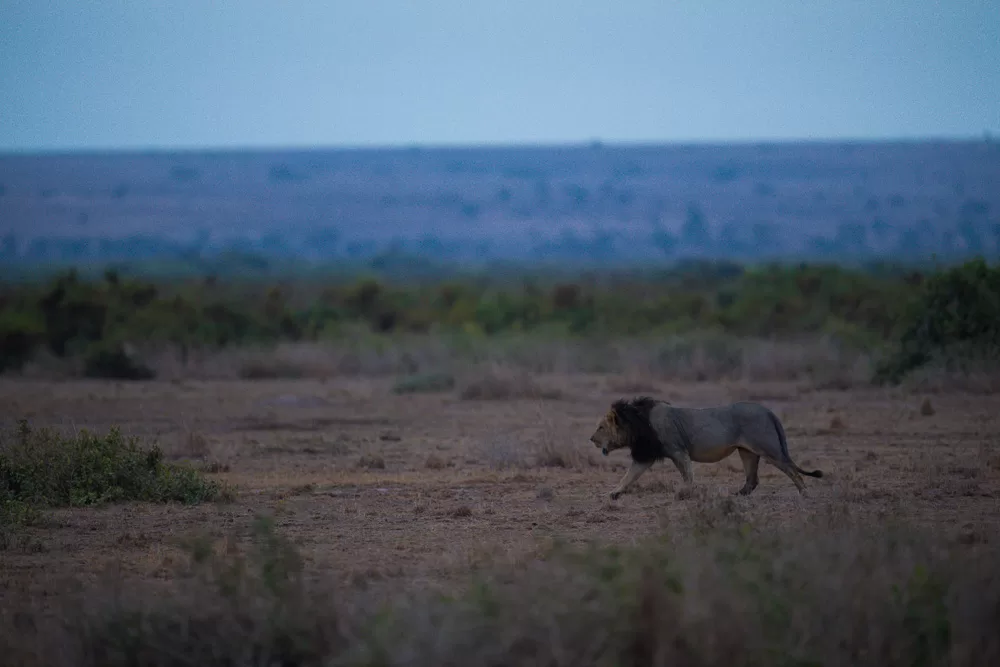 The collective group of habitats creates a scenic landscape. They are framed by views of Kilimanjaro. Amboseli has an underground water supply. It comes from the melting water of Kilimanjaro's glaciers. The waters feed the park's springs and lush green ponds. Within the park, there are rivers, lakes, and swamps. They act as a vital water source for Amboseli. The park's wildlife depends on them.
These water holes act as a habitat. One can find many animals. One can spot pods of hippos lounging in the waters. Many water birds can also be spotted. These watering holes are the best places to spot wildlife. Travelers can see huge elephant populations.
Maasai village:
As a part of your vacation, you can pay a visit to the people of the Maasai village and become familiar with their culture and tradition. A wide range of hues will surround you as soon as you enter this village. The bright shukas or sheets and the colorful beads of jewelry add to their display of color. You can even be a part of the adumu or "jumping dance" that is performed by the villagers.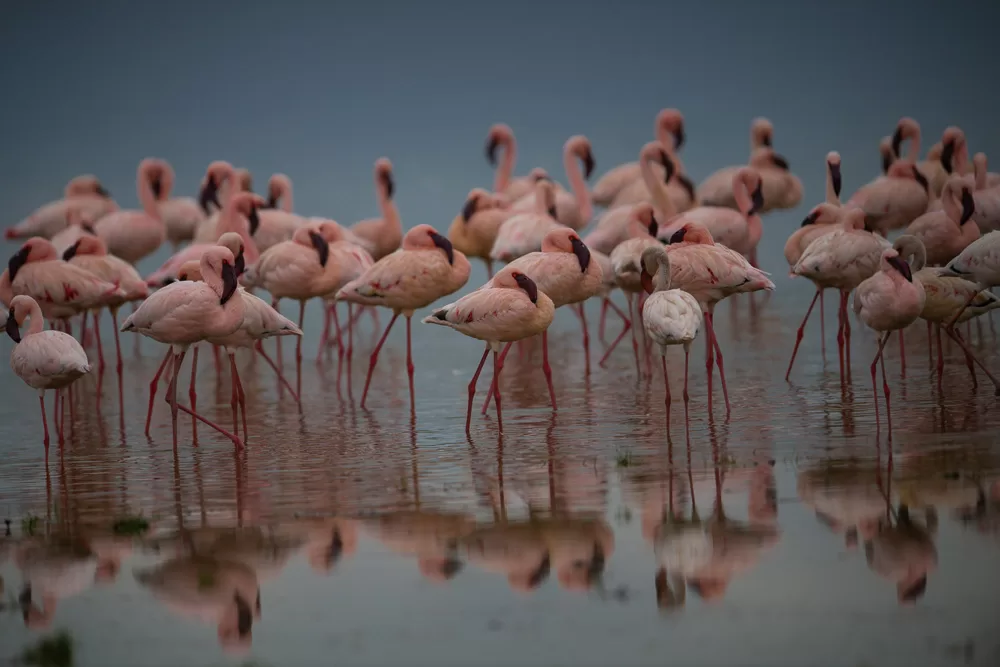 What to do in Amboseli
Amboseli park is a premier destination. It is home to many wildlife and birdlife. Guests can enjoy unbeatable safari activities in the park. Here are some activities to enjoy
Game Drives – These are classic safari activities. In Amboseli, game drives are conducted all day long. Morning game drives are considered the best. It is enjoyed early in the morning. Guests can see multiple animals during morning game drives. These include sightings of many big cat species as well. Huge concentration of animals gathers near water banks.
Guided Nature Walks – The park is rich with luscious vegetation. It can be experienced during guided nature walks. These walks are a great way to explore the park. Guests are accompanied by guides and rangers. One can discover hidden treasures in the park. The guided walks are done on foot. It gives a chance to have closer contact with animals. These include elephants, zebras, giraffes, and more.
Cultural Interactions – The local community lives inside the park. They are called the Maasai people. There are many highlights of Kenya safari Amboseli. One of them is interacting with the Maasai people. Guests can visit their villages. They can learn about their unique lifestyles. Maasai people are famous for their ademu or jumping dance ritual. Guests can participate in re-afforestation and plant seeds with them.
Hot Air Balloon Rides – Hot air balloon rides are usually conducted in the morning. Through this ride, guests can enjoy an aerial view of the park. One can spot elephant herds, zebras, giraffes, and more.
Bird Watching – Amboseli has a variety of bird species. They are spotted in different habitats. Guests may need binoculars to spot birds at far distances. Bird watching is a fun activity. It can be done leisurely.
Attractions in Amboseli National Park
Observation Hill – This hill is one of the attractions of the park. One can enjoy a clear, panoramic view of the park from here. It is a pyramid-shaped volcanic hill. It is found in the western section of the park. One needs to hike up the hill to reach the main point. It does not require any special hiking skills. The observation hill is surrounded by natural beauty. One can enjoy incredible sightseeing here. It cannot be missed during a Kenya safari Amboseli.
Sinet Delta – This delta is a birder paradise. Sinet Delta displays colorful avifauna. Here, around half of the birds of the park are found. It is located in the northern part. Sinet Delta is surrounded by thick vegetation. One can also spot many animals near the delta. These involve giraffes and other animals.
Lake Amboseli – This lake is found in the heart of the park. The lake is one of the main water sources for wildlife. Diverse wildlife gathers near Lake Amboseli. Guests can enjoy boat cruising on the lake. It is also a good habitat for aquatic species. Crocodiles and hippos are plentiful. The lake also has a variety of fishes.
Elephant Research Camp – This camp is set in Amboseli National Park. It researches the elephants residing in the park. The camp is not open for casual tourist visits. Instead, the researchers organize short lectures. They explain elephant conservation. This camp is best for naturalists.
How to reach:
The park is accessible by road and airways. There are multiple airstrips for light aircraft. They are found at Empusel gate and Kilimanjaro Buffalo Lodge. The Namanga town also has an airstrip. The nearest airport is the Jomo Kenyatta International Airport. It is located in Nairobi. One can also reach the park by road from Nairobi via Namanga.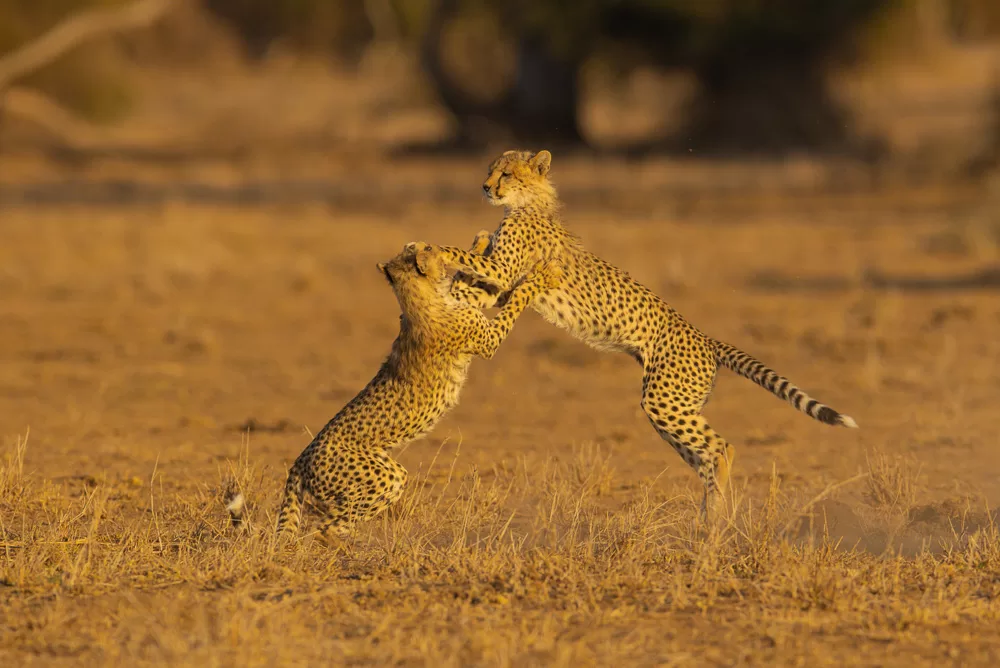 Where to Stay:
There are various accommodations available in the park. They range from budget-friendly to luxurious. There are many Amboseli National Park lodges. Several of them are situated at ideal locations. This makes up for excellent game viewing. Safari lodges here are abundant. Travelers can also stay on private campsites.
Satao Elerai is an exclusive game lodge. It is set in a private conservation area. It is found within the park. The lodge offers gorgeous views of Amboseli. It has healthy resident wildlife. Elephants are often seen from the lodge. The lodge has an infinity swimming pool.
Tawi Lodge is another luxurious lodge. It is found in a private conservation area. The lodge is set in a rich game area. It is an eco-friendly accommodation. Tawi Lodge has its private airstrip. The lodge sits under the shadows of Kilimanjaro. It offers lodges and cottages. They provide traditional East African hospitality.
Ol Tukai is an exclusive lodge. It offers scenic views of Kilimanjaro. The peaks are seen directly from its rooms. The lodge is found in the middle of the park. It has elegantly furnished rooms. Ol Tukai is inspired by Maasai art. The lodge has a garden restaurant.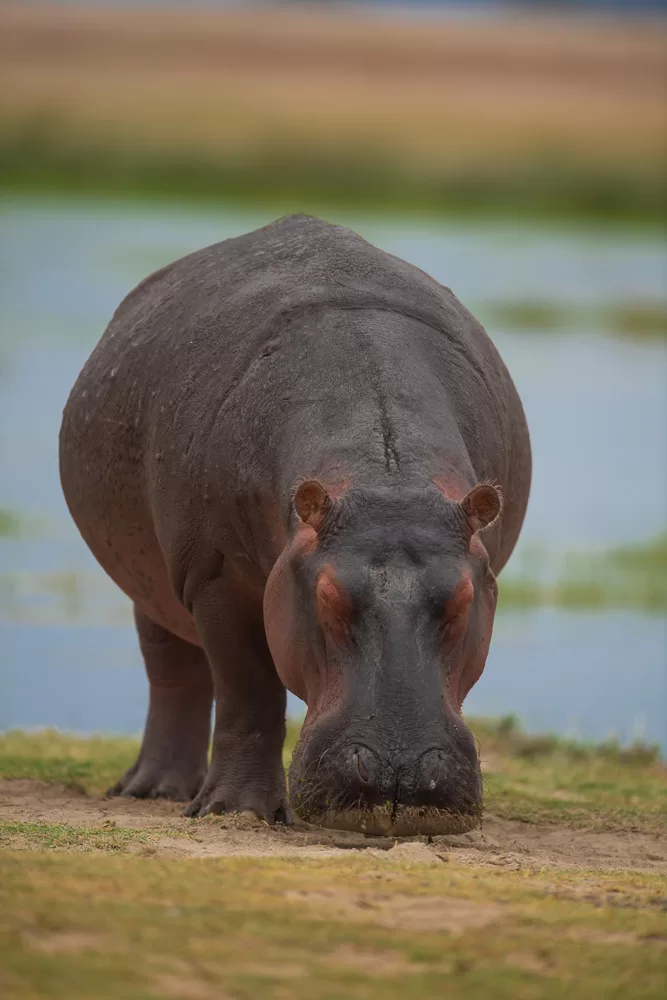 There are many such Amboseli National Park lodges and camps. They offer a comfortable stay.
When to Visit:
The best time to visit Amboseli is from June to October. These months mark the dry season. It is the best period to spot active wildlife. It is also the peak season. The vegetation becomes sparse in this season. So, game viewing becomes easier. Various animals tend to gather near watering holes in this season. The climate also remains pleasant. January To February also displays great sightings of wildlife.
The best time for birdwatching is from November to January. One can also visit from April to May. These months mark the wet season. One can see migratory birds during this time. Heavy rainfalls may occur in Amboseli during these months.