Details
Described as the 8th wonder of the world by Rudyard Kipling, the Milford Sound was carved by the glaciers during the Ice ages. Stunning in any weather, the fiord's cliffs rise from the dark waters vertically, the waterfalls cascade down from as high as 1000 meters, and the mountain peaks scrape the whole sky. The beauty of the waterfalls increases exponentially when the rain pours down in the Milford Sound.
The Milford Sound cruiseis one of the best ways to experience the Milford Sound. Adventures such as Sea kayaking, flightseeing, or diving are also available around here. One can visit the underwater observatory located at the Harrison Cove to learn about the local marine life and can check out the black coral, the delicate anemones, and the 11- legged sea stars. The Milford tracks are one of the best for hiking and trekking. The track begins at the Northern part of Lake Te Anau and goes through some of the best wilderness of the world. The trip will end with a boat trip from Sandfly Point to Milford Sound wharf.
If the guests want to get away from the hustle and bustle of the crowds then the best thing to do is to take the Milford Sound Cruise and relax in the luxury lounge while trying to spot the rare Fiordland Crested Penguin.
The Milford Sound Nature Cruise is the other option that travels along the UNESCO listed fiord, past the Mitre Peak, and waterfalls while cruising to the Tasman sea. The Milford Sound Discovery Centre & Underwater Observatory gives people the chance to access a viewing area underwater and is a great opportunity to learn about marine life. The fiord's highest waterfall which is also the only source of water and power of the town, the Lady Elizabeth Bowen Falls gives a great opportunity to kayak in it.
Located in the serpentine range, the Humboldt waterfalls are another piece of beauty that is a must-visit site of the South Island while on the Milford Sound Tour. There's just the official viewpoint platform, through which these waterfalls can be gazed upon.
The Milford Tracks provide hikes that range from a short period hike to a four-day hike. One can witness many scenic beauties on the hike such as the Clinton River and many more.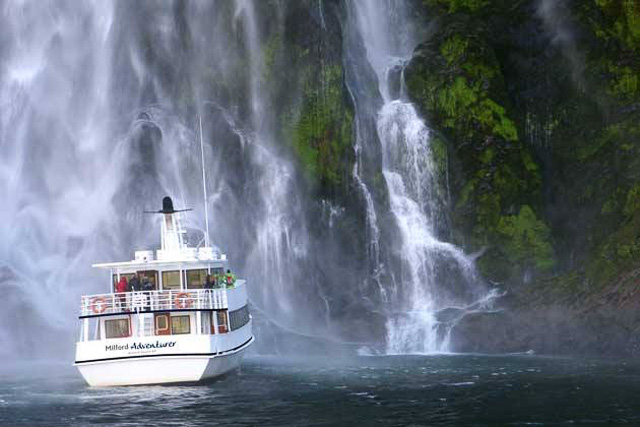 Where to stay
Many hotels, lodges, and other establishments have been set-up around the area for a large number of guests. The Milford Sound Lodge is one of the best residences for the guests to stay during this tour.