Details
Through fundamental Nepal's Annapurna mountain assortment, runs a beautiful Annapurna trek route, famously known as the Annapurna Circuit. Surrounding the larger than life Annapurna Massif, the trek passes through two separate river valleys. All the trekkers walk the road anticlockwise and are advised to slow their pace on reaching the highest point of the Annapurna trek route touching the Tibetan plateau border, at Thorung La pass (5416 mt /17769 feet). Several mountain peaks of 6000-8000mt altitudes are lodged in the Annapurna range. Mountains in the sight at this point include – The Annapurna Massif (Annapurna I-IV), Dhaulagiri, Machhapuchhre, Gangapurna, Manaslu, Pisang Peak, Tilicho Peak, and Paungda Danda.
Annapurna ranges are a trekker's dream come true. With trailheads that are just 1-2 hours from Pokhara, the Annapurna region unites numerous mountains of Nepal including Machhapuchhare and the Annapurna itself. With an assortment of trails, from Annapurna foothills' village treks to the mixture of sanctuary paths and not-to-forget, the Annapurna Circuit trek; and the spectacular views bestowed by the Thai Condos, Manangi, and the Gurang regions, beauty knows no bounds here in Annapurna. Treks near the Mardi Himal ridges add to this unforgettable experience.
Annapurna Circuit Trek:
Trek stats highlight:
Duration: 10 – 17 days
Best months: October to November
Starting point: Dharapani or Chame
Finish point: Jomsom or Naya Pul
Maximum elevation: 5416 mt.
Trek Information:
Over recent years, the starting point of this trek has changed quite a few times. Due to road and dam constructions, it is suggested to avoid the lower section of the old trail from Besi Sahar to Ngadi. The most usual way chosen to reach the starting points, Dharapani or Chame is to take a bus to BesiSahar and then change to a 4WD to the destination.
The condition of the roads and the transport options affect where the start point exactly is, but if the trekkers start walking in Chame, their trek will be cut down to a day lesser than that of the others. No matter what way you choose and how you reach the starting point, the Annapurna Circuit Trek is certainly worth it all.
Annapurna Conservation Area Project (ACAP) permit is to be collected usually at Kathmandu or Pokhara before arrival, nevertheless, in cases when participants have not gotten the ACAP issued, they can purchase one at the ACAP entry fee office in BesiSahar.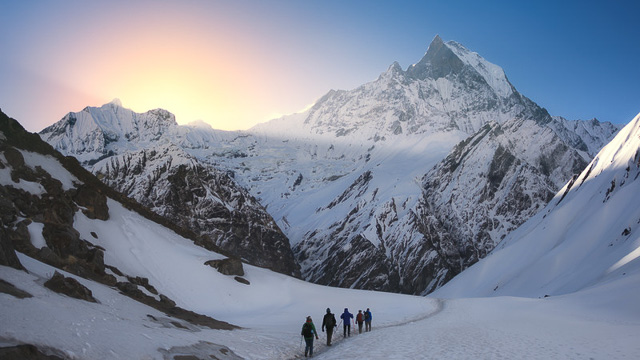 The Annapurna Circuit Trek is the one precious experience that everyone who comes here cherishes for their lifetime. A few things that make it so wonderful are the assortment of mountain ranges which provides some magnificent views and nature's beauty in its purest form with everything that is covered in Annapurna trek, from tropical to Alpine zones, leaving the trekkers mesmerized.