Introduction
Botswana is a landlocked country in the southern part of Africa, surrounded by Namibia, South Africa and Zimbabwe. It is the home to the famous Kalahari desert and the Okavango Delta. The Okavango Delta is a vast inland river delta in northern Botswana. About 38% of the country's land is reserved for national parks, which is one of the highest in the world. Botswana boasts the highest concentration of Elephants in the entire Africa, about 50,000 of them, spread mainly across Chobe national park and Linyanti region. A significant part of Botswana's area is taken up by the Kalahari desert, which is home to many animals like South African giraffe, bush elephant, white rhino, cape buffalo, spotted hyena, brown hyena, honey badger, meerkat, yellow mongoose, warthog, African leopard, South African cheetah, caracal, Cape wild dog, cape porcupine, blue wildebeest, black-backed jackal, cape fox, lion, plains zebra, common eland, gemsbok, springbok, steenbok, sable antelope, impala, greater kudu, aardvark, cape ground squirrel, bat-eared fox,, red hartebeest, cape hare, chacma baboon and ostrich.
However, there are vast expanses of untouched lands in the country, and it is one of the most sparsely populated countries in the world. At the same time, it features some of the most luxury resorts in the entire Africa, and a few which are accessible only by chartered flights during the rainy season. Game viewing here is plenty and Chobe National Park, Moremi Game Reserve, Okavango Delta and Central Kalahari GR are some of the most popular game reserves in the country. A journey through this wonderland of Kalahari and Okavango ecosystems is an experience that one remembers for a lifetime. Consult our destination experts today to help design a tailor-made Botswana plan for you.
Loading...
Holiday Ideas
Botswana is all about wildlife, but also about stunning landscapes and a peek into the local culture and food. If you have experienced east African safari parks then you are in for a surprise, this is very unlike what you see in a Masai Mara or a Serengeti. The habitat, the terrain are vastly different and there are many birds and animals which are found in these regions which are not regularly seen in east Africa – eg the African wild dogs. Botswana also offers some of the most luxurious accommodation in the whole of Africa which also positions you right in the centre of wildlife action while pampering you with world class hospitality.
Okavango Delta
Through the centre of Kalahari desert, the Okavango river criss-crosses creating an unique inland water system that supports a variety of animals, most notably Elephants. At Okavango you have the choice to see wildlife using a boat safari, jeep safari or even a walking safari. However as per us an Okavango experience is not complete without a helicopter safari, wherein you absorb the river and streams cutting through the vast land.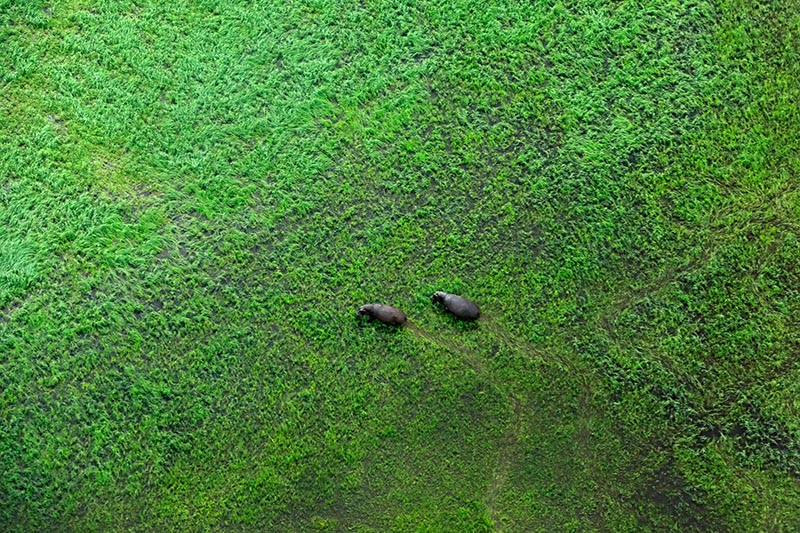 Chobe National Park
Chobe is one of the first national parks established in Botswana, and is home to about 120,000 Elephants. The Chobe Riverfront, the Savuti rock paintings, the Linyanti region of baobab trees and the salt pans are some of the major attractions to see here. It is common to see big Cats like Lions, Leopards and Cheetah here, also regularly seen are herds of Zebras, Elephants, Buffalos, Giraffes, and Baboons etc.
Moremi Game Reserve
Moremi is a small reserve with a very high density of wildlife. There have been over 500 species of birds recorded here, making it one of the best birding destinations in Botswana. It is an excellent place to see the African wild dogs as well as the Big Five including Lions and Leopards.
Central Kalahari Game Reserve
It is the second largest game reserve on the planet, and occupies an area more than Belgium. It is part of the Kalahari ecosystem. Traditionally, the bushmen or San have inhabited this land for thousands of years. Since then the government has relocated them outside and both wildlife and tourism flourished in this region. Almost all of the African mammals are found in this park.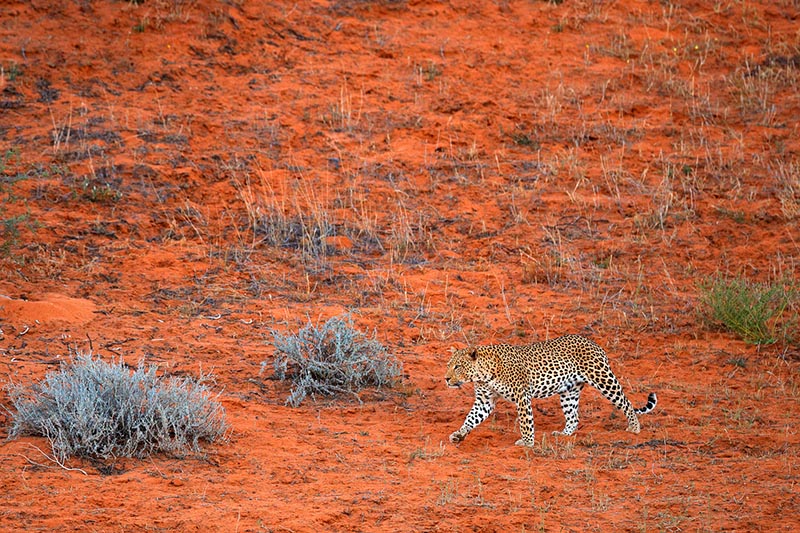 Kgalagadi Transfrontier National Park
Sand dunes, salt pans and plenty of wildlife in the Kalahari desert backdrop makes this an unique place to visit. The terrain is difficult and it is not an easy place to get into. You may not see all the Big Five here, but huge prey base of antelopes and wildebeests ensure that the predators are always lurking around.
Makgadikgadi Salt Pans
Makgadikgadi region in Botswana is famous for the various salt pans (dried beds of ancient lakes) that are mostly barren stretches of lands but are home to a few unique flora and fauna that have learned to survive for years on the minimal amount of water. It is also famous for its baobab trees and the unique wildlife surrounding the salt pans are a sight to behold.