Details
The stunning terrain of Moremi Game Reserve
Being one of the richest ecosystems in Africa, the Moremi National Park consists of grasslands, pans, lagoons, floodplains, forests of acacia trees, dense Mopane Woodlands, and savannahs. The stunning Baobabs are one of the major sights of attraction for tourists in the Moremi area. The Khwai area lying on the northeastern tip of Moremi boasts of evergreen trees that line the wide floodplains. Lying in the heart of Moremi, the Xakanaxa Lagoon consists of stunning mopane forests and a patchwork of shallow flooded areas and deep waterways that create a gorgeous area full of games. Moremi's largest island, the Chief Island offers exceptional game viewing to all the tourists.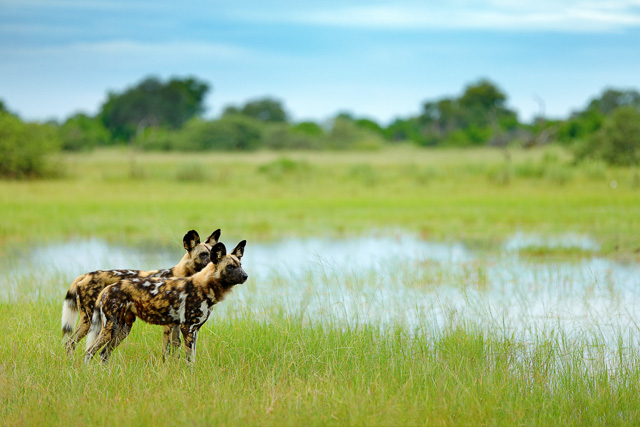 The unique wildlife to spot at Moremi Game Reserve
Be it spotting the Big Five, the White Rhino, or the Meerkat, the unique ecosystem of the Moremi Game Reserve makes it an ideal place to spot some of the world's rarest wildlife. Moremi is full of wildlife like hippos, elephants, buffalos, impalas, blue wildebeests red lechwe, wild dogs, giraffes, tsessebe, African clawless otters, and much more. Boasting over 500 species of birds, you will be able to spot unique bird species like slaty egret, wattled cranes, African fish eagle, African skimmer, Grey-winged Pytilia, southern carmine bee-eater, etc.
Camps and Hotels in Moremi Game Reserve
Staying inside the Moremi Game Reserve depends on the type of place you want to stay and its distance from the main reserve. Different types of accommodations inside and near the reserve range from luxury safari lodges to tented camps. However, some of the best camps and hotels include the BelmondKhwai riverCamp, Sanctuary Chief's Camp, Little Machaba Camp, Moremi crossing,camp Moremi Okavango Delta,Camp Xakanaxa, Khwai Tented, Camp Okuti, Mombo Camp, Machaba Camp, Mombo Trails Camp, Sango Safari Camp, and Little Mombo Camp. All these camps provide a holistic experience of living amidst the beauty of the Moremi Game Reserve.