Details
Recommended Fort Villages to Experience
Village Devigarh: Devigarh is best known for the history and sense of grandeur attached to Raas Devigarh or the Devigarh palace.Raas Devigarh is where the old meets the new. Ancient Rajputana style and indomitable spirit meet new ways of indulging in luxury. Enjoy hospitality at its finest at a palace that overlooks the Aravalli Hills and several well-maintained private gardens. Built-in the eighteenth century and restored in 1999, the Devigarh Palace allows you to watch mesmerizing sunsets while having masala chai at an exquisite lounge.
Village Samode: Village Samode is located around forty-two kilometers away from Jaipur, on the outskirts of Shekhawati. Popularly known for its fort hotel Samode Haveli, Village Samode gains many guests every year. While Samode Haveli is located in the remote folds of Jaipur, the location does nothing to stop guests who come from far and wide to taste the extravagance of Samode Haveli. Decorated to exude its rich history and culture, the Haveli provides all the modern amenities. You'll find beautiful gardens, frescoed corridors, a Sheesh Mahal, and intimate courtyards.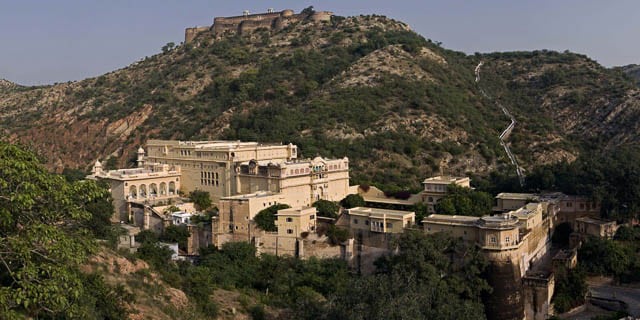 Village Deogarh: Despite being surrounded by all three major cities of Rajasthan- Udaipur, Jodhpur, and Jaipur, Deogarh offers peace and relaxation. Deogarh Mahal is a luxury fort hotel that has perfected the art of hospitality, down to the most minute details. The Deogarhs restored the fort to turn it into a luxury heritage hotel and reside in a section of the Mahal to personally manage everything. A great site for bird-watching wildlife, Deogarh Mahal is a must-visit.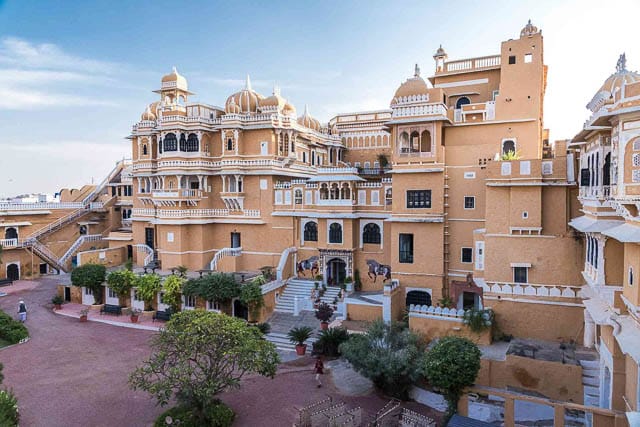 Village Mihirgarh: Mihirgarh Fort of Village Mihirgarh is best known for its location, apart from its architecture and detailed interior decor. Standing tall on a dune, it brings out the best of the Thar and turns it into a creative display of Rajputana hospitality. The color of the fort is the same as the sand beneath, making it seem like it's rising from the desert itself. Otherwise known as the Fort of the Sun, Mihirgarh Fort is the brainchild of Sidharth and Rashmi Rohet, who personally imagined and curated each nook and cranny.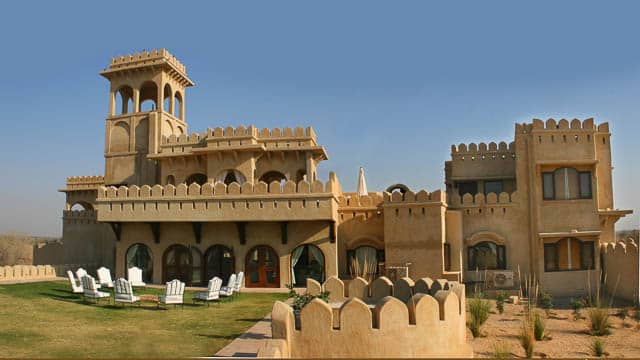 Village Rohet: Village Rohet birthed Rohet Garh, a fort hotel that has been an integral part of the village since its inception. Say hello to intimate settings, candle-lit dinners, quaint rural surroundings, and a beautiful landscape. Set on the banks of a lake, you'll be close to nature while experiencing the royal luxuries at Rohet Garh.
Village Narlai: Village Narlai is situated barely two hours away from Udaipur. Rawla Narlai, the perfect stop-over destination between Udaipur and Jodhpur, is a treasure-chest of magnificent and fascinating experiences. Not only will Rawla Narlai spoil you with unparalleled hospitality, but you'll also find all possible modern amenities perfected to it. If you're looking for a romantic getaway to Rajputana paradise, Rawla Narlai is the place to be.
Village Chandelao: The reason why the Chendalo Garh of Chandelao village is so popular, is because it's set against a rural backdrop. Not only do you get a taste of royal luxury at this magnificent fort hotel, but you also get to witness the true visage of rural Rajasthan. Chandelao Garh boasts of quintessential Rajasthani cuisine, made delicious by organic spices and herbs. Sounds of peacocks and birds will keep you company throughout the day.
Village Alsisar: Shekhwati's Alsisar village is proud of the Alsisar Mahal that is witness to the many tales of courage and sacrifice integral to Rajputana history. Buitl in the seventeenth century, battle-hardened Fort Hotel gives off unique nomadic vibes. A historical paradise, Alsisar Mahal consists of grand courtyards, intricately decorated dining arcades, vibrant frescoes, and a calming vibe. Owned by Abhimanyu Alsisar, the Mahal has fifty-one rooms, a gorgeous swimming pool, and a beautiful dining room.
Village Dungarpur: The Udai Bilas Mahal is the pride of Village Dungarpur. Located at the banks of Gaibsagar lake on one side, with a dense canopy of forest on the other, Udai Bilas Mahal gets full points on location and scenic beauty. The unhurried hospitality and floral themes contribute towards a peaceful ambiance, thus making Udai Bilas Mahal the perfect getaway destination, away from the hustle and bustle of metropolitan cities.
Village Neemrana: Located right in the middle of Delhi and Jaipur, Neemrana is synonymous with one of Rajasthan's first-ever Fort Hotels, the Neemrana Fort. Neemrana Fort is exceedingly majestic in form and boasts of seventy-six rooms and suites. With hanging gardens, India's first zip-line, and an Ayurvedic spa, you'll find this Fort Hotel to be extremely different from the others. Immersed in medieval history combined with romantic charm, Neemrana Fort will never come short of stealing your heart.
Village Raipur: Built in the nineteenth century, Lakshman Sagar used to be a hunting lodge before it was redecorated to become a Fort Hotel. Right from the indoor activities to the interior-decor, the entirety of Lakshman Sagar gives off authentic vibes. Activities like goat herding, kite flying, star-gazing, horse-trailing, and nature walks are what make your stay here memorable and unique.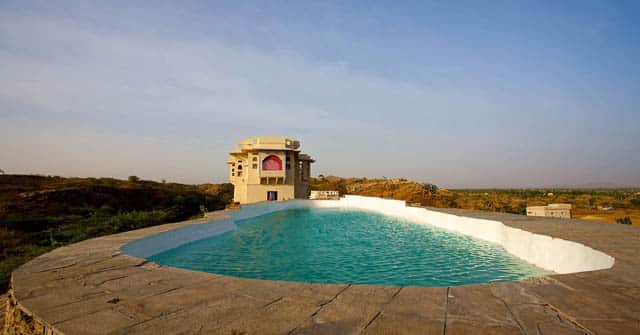 Village Sapotra: The Ramathra Fort of Sapotra Village is surrounded by wildlife sanctuaries and tourist spots. Located right in the middle of Ranthambore Tiger Reserve in Sawai Madhopur and Keoladeo Ghana Bird Sanctuary in Bharatpur, Ramathra Fort is also in proximity to Kaila Devi national Park. Apart from that, the lake and the countryside also offer picturesque scenery. You'll find yourself protected from the noise of the city and being part of an indulgent affair.
Village Ghanerao: The Ghanerao Royal Castle or the Ghanerao Rawal is a testimony to red sandstone and marble Rajput architecture. With seventeen beautiful rooms divided into three different categories, each decorated uniquely, you'll have a wonderful stay at Ghanerao Rawal. Expeditions include a visit to the Kumbhalgarh Fort, leopard safaris, jeep/horse safaris and a visit to the Ranakpur Jain Temple. The Ghanerao Rawal has witnessed many exuberant weddings being forged here.