Details
Hwange National Park derives its name from a local Nhanzwa chief. In the 19th century, the land of Hwange served as the royal hunting ground for Mzilikazi, the Ndebele warrior king, and his successor, Lobengula. However, it was the white settlers that led a series of killings in the name of trophy hunting in Hwange. In 1928, Hwange was declared as a game reserve by the then Rhodesian government to protect the animals of Zimbabwe.
The same year, Ted Davison who was an official employee, became in-charge of the reserve and developed it into a blooming national park. He brought back the population of elephants and the almost extinct species of rhinos. Davison noted that the poorly drained Kalahari sands, which already received less rainfall, were unable to support the large wildlife population in Hwange. He quickly understood that water was critical for the animals to survive and thus, drilled boreholes to create sixty new pans. These were linked to the existing seasonal pans and fossil river lines which motivated animals to migrate back.
Originally known as Wankie Game Reserve, Hwange became a proclaimed national park in 1950.
Wildlife
Being one of the largest national parks in Zimbabwe, Hwange houses diverse species of wildlife. While all the Big Five animals can be spotted, the park is particularly known for its abundant elephant population. An estimated 44,000 elephants live throughout the park and are known to be one of the largest populations in the world. Cape wild dogs living in Hwange are considered to be one of the biggest surviving groups in Africa.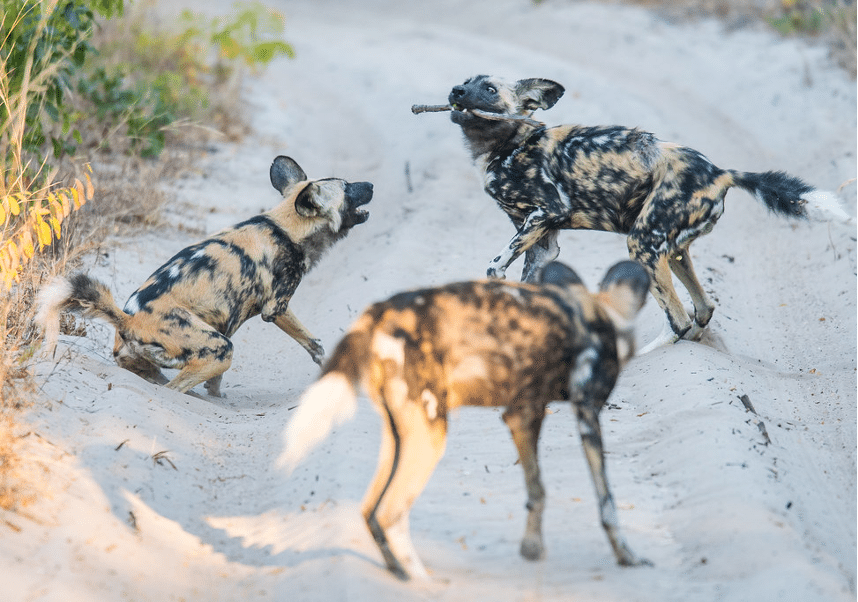 Lions, cheetahs, hyenas, giraffes, and buffalos are commonly spotted along with elusive leopards and rhinos. The watering holes of the park inhabit pods of hippos and crocodiles. Unusual species of antelopes are also present in Hwange, namely the gemsbok, greater kudu, sable, and roan antelope.
The best time to go wildlife viewing in Hwange National Park is during the dry season, from July to October. During this period, the vegetation becomes thinner and animals have to depend on man-made pumped water holes for water. Visitors can also witness predators stalking and hunting prey near the watering holes.
Bird watching
With over 420 species of birds found in the park, Hwange is a bird watchers' paradise. It houses some of the largest flying birds such as the elegant Kori bustard and the secretary bird. Other sightings within the park include the southern ground hornbill, red-billed francolin, Bronze-winged Crouser, Rufous-naped Lark, African golden oriole, and collared pratincole. Furthermore, there are 50 different varieties of raptor species found in the national park, the bateleur eagle being the most common.
The best time to visit Hwange National Park for birding is from November to April. It is when migratory birds come from Europe and Northern Africa. During this period, the summer showers bring forth luscious vegetation while the resident birds are seen nesting in their colorful breeding plumage.
Pans and salt licks of Hwange National Park
Hwange's most remarkable features are the natural salt licks and shallow pans that draw the wildlife population. The pans are 20 to 30 meters in diameter and reach a depth of up to 1 meter after rainfall. These pans are interestingly created by ants and other wild animals. The ants create ant heaps and bring salts such as lime to the exterior, attracting various animals, especially elephants. The pans are seen in the richest lime deposit near Kennedy, Main Camp, Ngamo, and Ngwashli.
Activities to do in Hwange National Park
Painted Dog Project Centre – Wild dogs, also known as painted dogs, are an endangered species. In Hwange, this conservation facility focuses on the issue and takes direct action by protecting and rehabilitating injured or orphaned wild dogs. They also provide development projects and long-term education to the communities living in the neighboring area. If visitors cannot spot wild dogs during game drives, they can visit the center to observe and learn more about them.
Day safaris – Daytime safaris can be enjoyed in Hwange National Park. Safaris allow visitors to marvel at more than 100 mammal species such as elephants, lion pride, an array of antelopes, buffalos, and much more living in the park. These animals are typically spotted near the man-made watering holes throughout the park.
Night game drives – Nighttime safaris allow visitors to witness the African bush after dark. Visitors have the best chance to see nocturnal animals such as the elusive leopard, hyenas, and lions on a hunt. During the night, aardvark, aardwolf, and several small cat species are also spotted in the park.
Horseback safaris – One of the most unique and adventurous ways to experience Hwange National Park is to embark on horseback safaris. Visitors have the opportunity to ride through the wild bush across the open plains while tracking and viewing animals on the way.
Village tours – Visitors can visit local villages in the Hwange District and learn about their traditional homesteads as well as their culture. Moreover, the village markets usually sell handmade arts and crafts created by the native people which helps keep their heritage alive.
Where to stay in Hwange National Park
There are several luxurious accommodation options available in Hwange National Park. Some of them are:
Sinamatela Camp – The camp is located near the northern boundary of the park and overlooks a riverbed. It has 14 comfortable chalets that include modern facilities. Sinamatela also features a bar, a restaurant.
Somalisa Camp – Somalisa Camp is set in the heart of Hwange National Park in a private concession. It has seven tastefully decorated tents combined with luxurious amenities. It is an eco-friendly camp, built in an authentic African style.
Robins Camp – This camp is situated in the northwestern area of the national park. This down-to-earth camp has luxurious lodges and cottages with comfortable décor along with the original campsites. It also provides a swimming pool, a restaurant, and a hotel bar.
Gwango Elephant Lodge – This lodge is known for offering exclusive services in Hwange. Its spacious double-story thatched villas have en-suite facilities and offer beautiful views of the nearby watering holes. It also offers forest chalets equipped with modern conveniences.
Hideaway Elephants Eye – This luxury eco-lodge sits in private concession and shares a fenceless border with Hwange National Park. The 8 comfortably raised tented chalets are made with sustainable materials and open up across the waterhole. The lodge also has an eco-spa, a swimming pool, and a dining area.