Details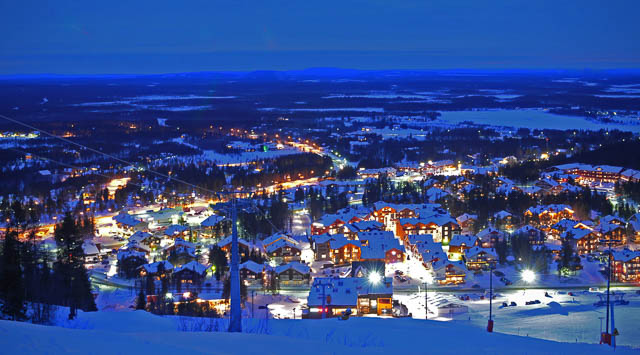 Activities to do in Kittilä:
Known for its cultural significance, Kittilä is also an ideal place for you to explore various snow activities. Be it riding on a sled pulled by boisterous dogs or regal reindeer or meeting fluffy farm animals at the Kapiainen Animal Farm, Kittilä has a range of activities to keep its tourists entertained. You can also experience the thrill of exploring the areas by riding on a snowmobile. The trails for the snowmobile are full of stunning views that will blow your mind. If you want to explore the aurora borealis Finland from Kittilä, then you need to travel to the Yllas ski resort, Levi ski-resort, and many other places in Lapland. Since you get a clear view of aurora borealis Finland in the outskirts of cities, Kittilä acts as the best place for you to relax before exploring nature's visual art!
Things to do in Kittilä:
SNOW VILLAGE: As the name suggests, the snow village has everything made of snow. With a plethora of things to explore, the introductory film, the Game of Thrones theme, various other snow sculptures, etc. are the main attractions inside the snow village. The tourists also have a great time learning about the construction of the snow village.
RAMI'S HUSKIES: The 10 km long husky ride is one of the best things to do in Kittilä. With most people coming here to see the aurora borealis Finland, you should not miss out on the thrill of controlling your sled pulled by gorgeous huskies. The experience is one of a kind and loved by all the tourists visiting Kittilä.
WOLVERINE FELL WILDERNESS AND NATURE: Translated as Kätkätunturin Erä ja Luonto in Finnish, the company provides various program services like Reindeer ride, Salmon soup, ice fishing, snowshoe excursions, wilderness skills competitions, etc. It also provides services in the summers, that include sauna and fishing at the lake, reindeer marking at the farm, bog hiking, geese hunting, etc.
THE SARESTONIEMI MUSEUM: Consisting of several buildings, the significant buildings of the Särestöniemi Museum include Reidar Särestöniemi's studio and gallery and the Särestöniemi family farm. Portraying exceptional paintings of Finnish art, it is one of the must-visit places for the tourists.
The stunning Pallas-Yllästunturi National Park:
Spread widely in the Lapland, the Pallas-Yllästunturi National Park is one of the most scenic destinations in the whole world. Being Finland's most popular park, it spreads over four municipalities and gives you views of stunning landscapes that you will never forget in your life. Known as one of the most famous points for spotting the stunning aurora borealis Finland, the park also offers short and long day trails to various spots that offer a clean climate, beautiful forests with the view of the Siberian Jay, and stunning landscapes.