Details
Spiti Valley never ceases to surprise you with its sun-gazing and calming setting. Along with magnificent mountains, exquisite vegetations, rugged desert, mellow greens, smoothly flowing and humming rivers, snow-covered glacier passes, and atmospheric hues, the pleasant destination offers vibrantly beautiful Buddhist monasteries that will give you a sense of nirvana. The Spiti Terrain is firm and varied. The clear skies and environmental-friendly elements give you the benefit of viewing the bare and incomparable charm of admiring the milky way in the night.
Saunter through the destination and get the euphoric and alleviating essence of the traditional Tibetan culture. From hiking to mountain biking and motorcycling, do as you please and wander through the serene roads of the Himalayan range to lose yourself in the charm and tranquility of nature.
Places of Interest:
Key Monastery:It is obvious that Himachal Pradesh is the exquisite hub to a myriad of monasteries, one of them being the Key Monastery. Along with being the oldest and biggest monastery, this spot is an ideal attraction for tourists. The soothing monastery is situated amid admirable valleys and panoramic mountains. Stroll through the monastery and make sure to capture never ending memories.
Chandratal Lake:The extensive Chandratal Lake is perched at a comprehensive altitude of 4200 m above the sea level. One must ensure visiting this ethereal spot to see for themselves what it has to offer. The lake is an unparalleled combination of hues and charm. Furthermore, you wouldn't want to miss the breathtaking view of the lake encircled by vibrant wildflowers and gigantic and mesmerizing mountains.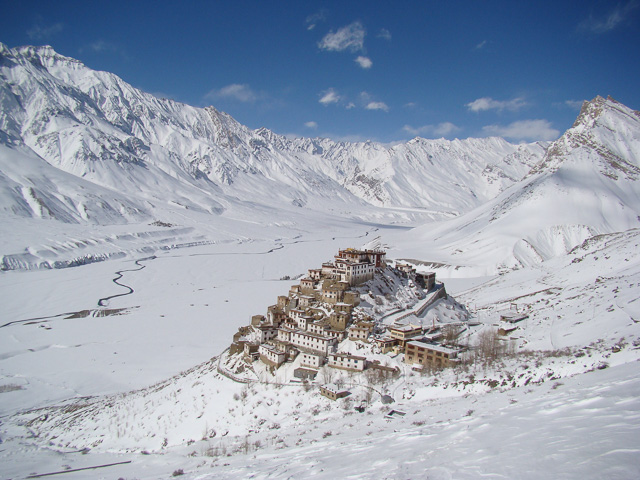 Suraj Tal:Suraj Tal is recognized as the 21st highest lake globally and the first highest lake in India. The serene water body lies in the mix of magnificently gigantic mountains, ethereal valleys, and an explicit atmosphere. Several people come to this destination to clean off their sins. It is believed that you can become pure by taking a dip in the sterile jade waters of the lake. Nonetheless, regardless of your spiritual beliefs, this place is a must-visit.
Tabo Monastery:Tabo Monastery is a divine attraction ofSpiti valley. It was primarily established decades ago. In a nutshell, this temple distinguishes the cultural and historic vitality of the place. It is furthermore surrounded by the barbarous bare mountains, along with barren deserts. The soothing vibe of this temple will leave everybody feeling calm and relaxed. This place is a hotspot for tourists who are intrigued by Spiti Valley's history.
Kunzum Pass:The ethereal spot, Kunzum Pass is a mystery in paradise. Along with being one of the most underrated yet fascinating places inSpiti Valley, this attraction is the direct passage to get to the captivating Spiti through Kullu and Lahaul. Remove your cameras and make sure to capture the gazing atmospheric view chiefly filled with hues. Lose yourself amid this heavenly and dreamy attraction, the ray encountering a blissful experience.
Kaza:Kaza is situated on the outskirts of Himachal Pradesh. It is a place filled with utopia and tranquility. The soothing destination is entirely covered with gigantic and magnificent snow-filled mountains. Furthermore, it is surrounded by divine and pristine rivers, glossy and vibrant streams, and a panoramic landscape. The destination looks like absolute bliss, you will have an experience of living in cloud 9.
Kibber: Kibber is another destination that has a smooth blend of charm and delicacy. Beautiful is but an underrated word to describe this spot. Amid nowhere, lies Kibber, surrounded with a mellow and vibrant atmosphere, barbaric mountains, clear skies, diversified wildflowers, and an exclusively environment-friendly ecosystem. Gaze through this wondrous land and capture a myriad of pictures, thereby taking several beautiful memories with you.
Tabo: Tabo is located on Spiti Valley's banks. It is a small yet elegant town in the district of Himachal Pradesh, Lahaul, and Spiti. It is surrounded by snow-capped Himalayan peaks and screw scopes and has a heaven-like vibe that will leave you feeling calm and relaxed. Along with the serene beauty, this place showcases the rich culture and heritage of Himachal Pradesh. Stroll through this town to encounter the traditional lifestyle of the locals.
Nako Lake: A small yet divine reservoir, Nako Lake is extensively isolated. Today, it has gained peak popularity for its picturesque landscape and an exquisite setting. It is situated amid the mystical Himalayas and is a vital hotspot for every nature lover. The lake is encompassed with countless trees and greens, along with gigantic and barbarous mountains.
Dhankar Monastery: Dhankar Monastery is popularly known for its exceptional historic heritage. Not only is it the symbolic aloha to the mindful and spiritual Buddhist community beliefs but is a destination of peace and tranquility. Take the exhaustedLahaul and Spiti Tourto get to this spot and encounter the most mind-relaxing and Nirvana-like experience.