Details
History:
Mombasa was formerly founded by two mighty rulers- Shehe Mvita and Mwana Mkisi. Mombasa comes with a debatable history. It was a paramount hub of trading gold, spices, and ivory in the pre-modern era. Later, it became a fundamental place in the proficient trade networking of exports through the Indian Ocean. The chief exports in that period were coconuts, millet, ivory, and sesamum.
Places of Interest:
Fort Jesus: Fort Jesus was initially constructed in 1593 by the Portuguese. Along with being one of the most desired tourist attractions, Fort Jesus comprises a brilliant and historic architecture that highlights the rich heritage of Mombasa.
Haller Park: Haller Park is the one-stop attraction for wildlife enthusiasts. It was earlier known as Bamburi Nature Trail. A few of the wildlife found here are Zebras, hippos, giraffes, Cape buffalo and waterbucks.
Mombasa Marine National Park: Mombasa Marine National Park is unquestionably one of the most crowded offshore reserves worldwide and offers countless water activities and marine creatures to see. From diving and snorkeling to stumbling across seagrass beds and sandy beaches, this destination is a must-visit.
North Coast Beaches: The northern coastline of Mombasa offers a much more riveting experience compared to other shores. From coral reefs, Palm-lined beaches, sun-kissed scenes, crystal clear waters and much more, north coast beaches are the ultimate destination for entertaining activities like water sports.
South Coast Beaches: South coast beaches contribute to the euphoric and panoramic beauties of the world. From aesthetically pleasing beaches, rain forests, turquoise sea, rustling and green palms and much more, this destination is filled with exotic wildlife creatures.
Old Town: The old town was the prominent hub of the Portuguese in the earlier days. This town is filled with ancient ruins and offers a blended reflection of the Arab, European, and Asian cultures. You will get to see the sleek yet historical architecture around the town.
Mombasa Tusks: Mombasa Tusks, along with being one of the most desired tourist attractions, is a paramount landmark of the city. It was initially built in 1952 to commemorate Queen Elizabeth's visit to the city. Explore this landmark to learn a bit more about the history of Mombasa.
Mamba Village Centre: Mamba Village Centre accounts for the largest crocodile farms in East Africa. Nature enthusiasts should undeniably pay a visit to this divine destination during a Mombasa vacation. From the riveting botanical garden to an impeccable aquarium, this center is a house for several carnivorous species, aquatic plants, and exotic creatures.
Mombasa Go-Kart: A thrilling and adventurous attraction filled with Go-Kart activities for kids of all age groups. Stroll through different wondrous rides like go-karts, off-road buggies, and enjoy your Mombasa vacation to the fullest.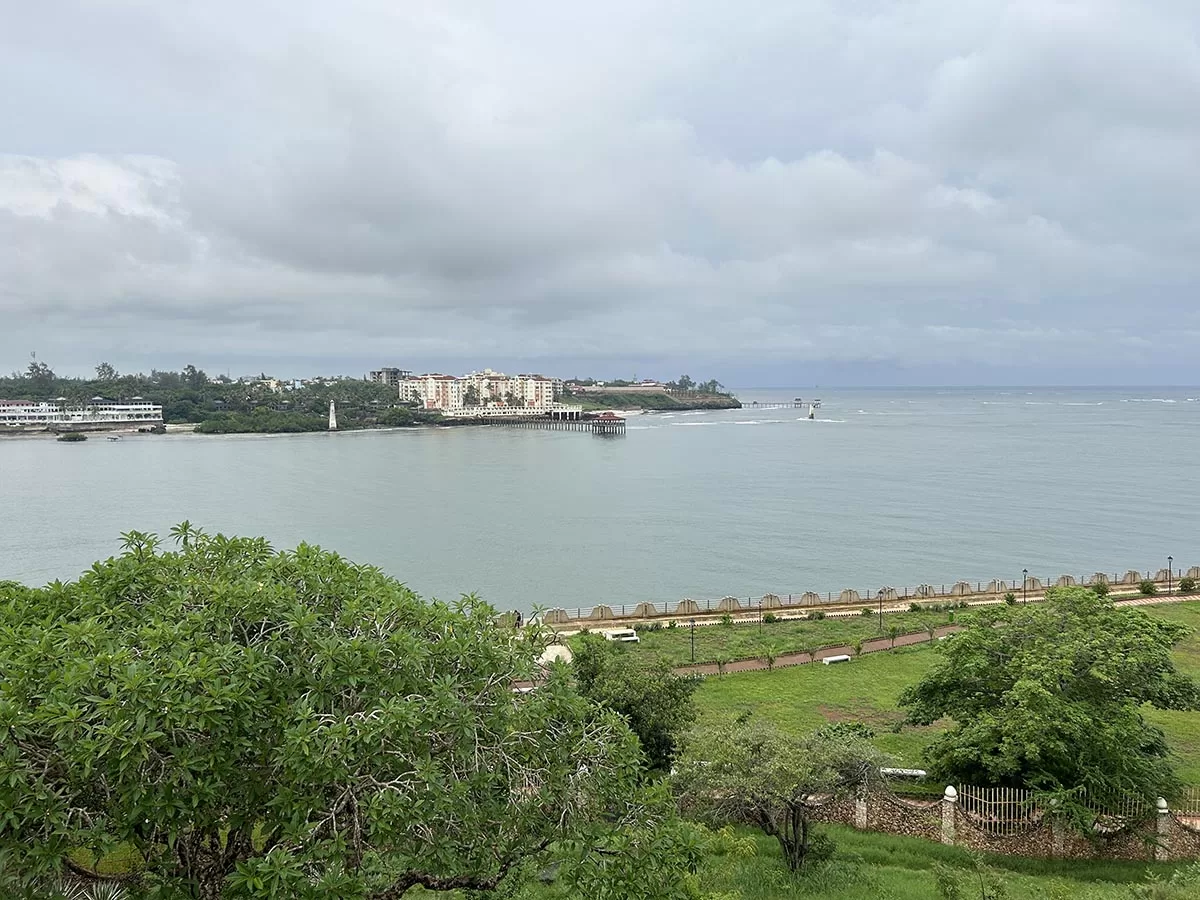 Food and Shopping:
Mombasa offers countless exciting accessories to shop. From antique to sophisticated stores, you can conveniently come across several pleasing and cost-effective shopping streets. A few of the shopping streets to visit are- Biashara street, Akamba wood carvers, Bombulu workshops, and A1 supermarket. Food here, on the other hand, is of mixed cultures. Famous meals that you should have when you visit this place are Achari, seafood, Mahamri, Kashata and Mkate wa Sinia
Nearby Attractions:
Diani Beach: Visit one of the most beautiful because in the world- Diani Beach. This beach is situated on the coast of the Indian Ocean. Visit the place for watching the sunset as it sun-kisses your face. Furthermore, wander around the beach with your loved ones and enjoy the sandy hues.
Wasini Island: Reach Wasini by dawn. The gorgeous island offers you the view of several dolphins. From snorkelling to diving, enjoy the journey of marine life followed by which you can visit the Wasini Village for viewing coastal scrubs, Swahili ruins, and much more.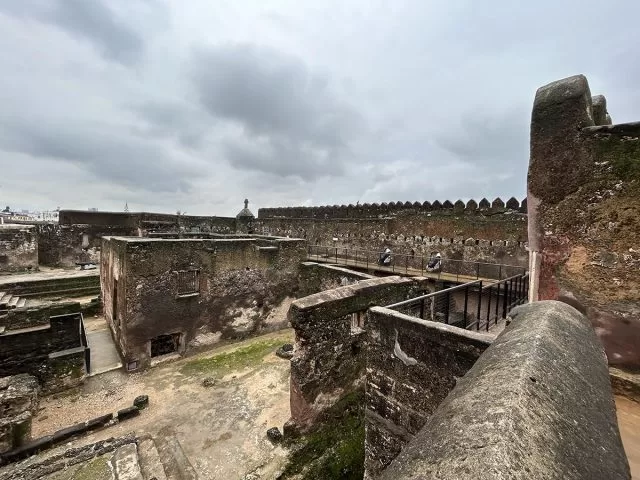 Kisite-Mpunguti Marine National Park: The exemplary National Park known as Kisite-Mpunguti Marine, is ideal for diving and snorkeling enthusiasts. It lies amidst four small islands and is popular for dolphin spotting.
Shimba Hills National Reserve: Located about 33 kilometers to the south from Mombasa, Sinha Hills National Reserve is home to crowded beach resorts. It shelters tropical plants and animals, and with waterfalls, woodlands, savannahs, it is a perfect destination for Mombasa vacation.
Arabuko-Sokoke National Forest: The famous Arabuko-Sokoke Forests is quite a site for viewing plentiful wildlife creatures and plants, including birds, amphibians, tropical plants, and butterflies of diversified species.
Gede Ruins: Gede Ruins used to be a popular town in the medieval-era. It was rebuilt in the 16th century and is now a tourist attraction for its coral-stone housed architecture, pillar tombs, and much more.
Watamu: Watamu is located about 112 kilometers from the city. The exclusive Swahili fishing village has a beach resort that offers several fun-loving activities starting from diving and snorkeling. Gede and Malindi Marine National Reserve are two tourist spots that you can travel to from here.
Kilifi: Kilifi is another delightful beach resort situated on Kilifi Creek's banks. Here, a myriad of yachts bobs around in the windy haze. You can view the marine ruins and the historical heritage of the city in this place during your Mombasa vacation.
Where to stay:
Our Mombasa Holiday packages come with a multitude of aesthetically-pleasing benefits. You can make this Mombasa Vacation worthwhile by living in any of these resorts and hotels.
Sarova Whitesands Beach Resort and Spa: The luxurious resort is designed with vibrant architecture and offers polished suites and rooms. Avail exciting facilities like outdoor pools and spas.
Pridelnn Flamingo Beach Resort and Spa: Pridelnn Flamingo is quite a dreamy Beach resort that you can stay in. Filled with thrilling beach activities and a scenic setting, this resort has the hearts of many.
Bahari Beach Hotel: The exquisite laid-back beachfront Hotel is surrounded by divine nature, several restaurants, spas, and bars.