Details
Places of Interest:
River Lidder: This 73 kilometers long river in Pahalgam is a major attraction for the tourists mainly for fishing. It has crystal blueish water. The fishing season starts from April ending in September having exceptional beats for the brown trout, and rainbow trout. A permit of 3 days is issued for one person to be allowed to fish at the River Lidder.
Betab Valley: Located 15 kilometers away from Pahalgam, this valley was named after a movie called Betaab. The Betab valley is surrounded by lush green meadows and snow-clad mountains. The valley lies between the two Himalayan Ranges Pir Panjal and Zanskar. Being a favorite campsite for tourists the Betab Valley also serves as the base camp for trekking and exploration. The clear and chilled water of the stream bubbling down the snow-clad mountains is a delight to watch.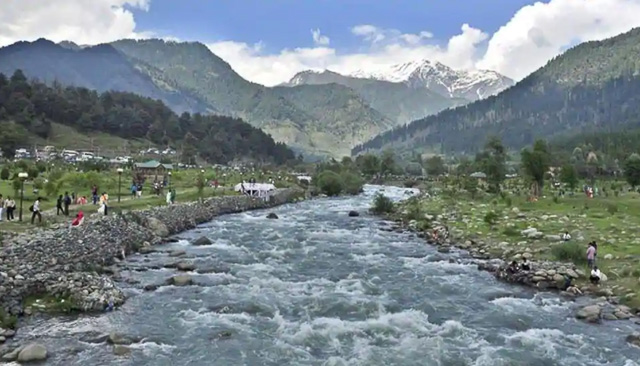 Aru Valley: Aru valley is a tourist spot located around 12 kilometers away from Pahalgam. It is popular for its lush green meadows, lakes, and mountains. During the winter when the valley receives huge amounts of snowfall skiing and heliskiing are practised near Mt. Kolahoi, the largest peak in the valley. Other tourist activities include fishing in the Lidder river, hiking, sightseeing, and photography.
Pahalgam Golf Course: Located about 100 kilometers away from Pahalgam, this golf course is astonishing and will surely take your breath away with its beauty and design. Surrounded by soaring high snow-clad mountains this golf course is a must-visit tourist spot in Kashmir Pahalgam. The ideal time to visit this golf course is from May to October.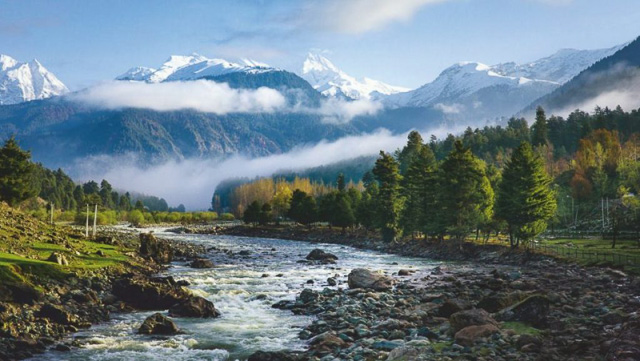 Nearby Attractions:
Anantnag: Anantnag is located 53 kilometers away from Pahalgam. It is the third-largest city in Jammu and Kashmir. Masjid Baba Dawood Khaki is one of the oldest mosques in the city, built around 1400 CE, another major attraction of the city is the Martand Temple which was built in 500 CE. Both the mosque and the temple are important archaeological sites of Pahalgam.
Srinagar: Srinagar is the largest city of Jammu and Kashmir, located in the Kashmir valley on the banks of the Jhelum river. It is Popular for its Kashmiri tradition, handicrafts, and dry fruits. The city is also known for its natural environment, houseboats, and waterfronts.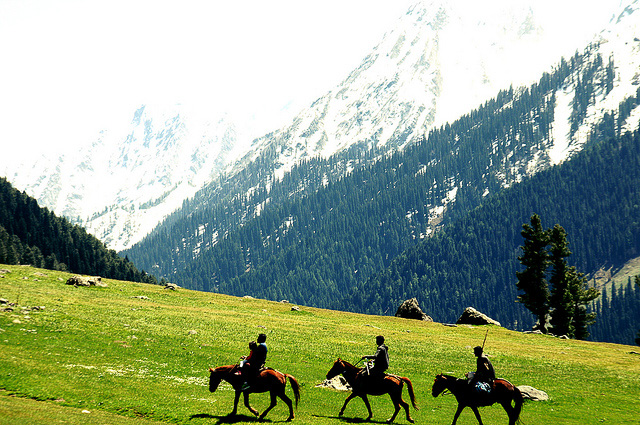 Sonmarg: Sonmarg hill station is located in the Ganderbal district. It is popular for organizing yearly river rafting tournaments with the participation of teams coming from abroad as well.
Other Attractions:
Trekking: The Pahalgam-Kolahoi trek through the Aru village and Pahalgam-Chandanwari trek to Sheshnag Lake are the most popular trekking routes. Between June and early October, you can make an overnight trek to Tarsar Lake from Aru to nearby Masar and Sonasar alpine lakes. Longer treks are done via Lidderwat to Sikwas and Sanmus to Sumbal. Most guesthouses in Aru can find a horse or a horse person for an affordable price on which you can arrange full treks