Details
Tiger is the apex predator of Panna national park. Along with tigers, Guests can also feast their eyes on numerous other species like leopards, striped hyenas, langur, porcupine, jackals, and many other animals.
Nilgai and sambar are the two main types of herbivores, and chittal is the significant prey during the rainy season. People can spot Chousingha and wild boar quite easily. Panna national park is home to other species like ratel, wild pigs, Indian fox, wolf, mongoose, and dhole. During the boat ride through the Ken river, one can witness mugger or gharial crocodiles.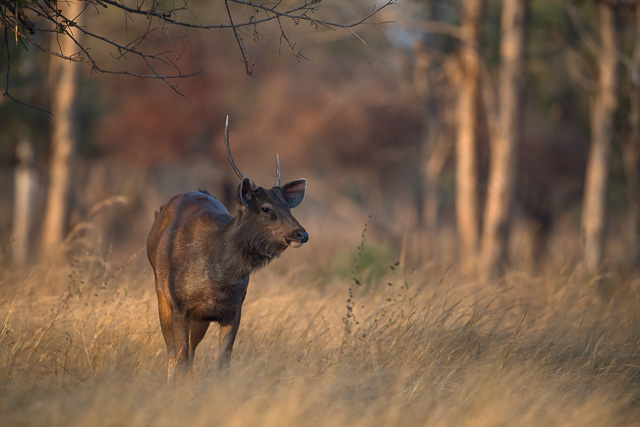 Apart from animals, the Panna national park is also famous for different types of birds. The reserve exhibits more than 200 types of birds. Guests can easily spot Paradise Flycatcher, which is the state bird of Madhya Pradesh. One can also spot the Common Peafowl, the national bird of India. People can also spot the migratory birds flying from the Himalayas and Central Asia.
Things to do:
Jeep safari: It is one of the best and popular ways to explore the rich flora and fauna of the national park. This open jeep safari takes the Guests through the dense teak forests, and they can witness some beautiful waterfalls. By taking a jeep safari, people also get the thrill of witnessing a tiger. Panna national park is a home to many birds and animals, which makes it a heaven for both photography and nature enthusiasts. Guests can also take the night safari, which usually happens in a buffer zone.
Elephant safari: People who love adventure can take the elephant safari. In this safari, Guests can sit on the back of an elephant and explore the Panna national park. Guests can witness miles of the lush green forest by taking this safari.
Places nearby:
Apart from exploring the dense forest, which is filled with a wide variety of animals and birds, Guests can also take a trip to the nearby waterfalls.
Raneh Falls: It is a must-visit place during the trip to Panna national park. It is a picturesque location, and pink, misty white, red, and green-colored rocks surrounding the falls make it even more beautiful. The waterfall flows on the Ken river and has been formed naturally.
Pandav Falls: According to mythology, Pandava's brothers from Mahabharata visited this place during exile, and hence the falls got its name as Pandav falls. It is situated on a tributary of the Ken river and falls from a height and forms a pool at the bottom. This enthralling waterfall is a feast to the eyes.