Details
It is a regular affair to spot tigers and leopards in a Pench national park safari. Apart from tigers, the place is home to many species like spotted deer, sambar, barking deer, nilgai, sloth bear, four-horned antelope, and many more animals. Langurs and wild pigs are present in abundance, and people can easily see them roaming in the forest.
Spotting a flying squirrel, wolf, porcupine, or Indian pangolin is a rare event. The national park is home to some reptiles like Indian Flap Shell Turtle, Indian Python, Varanus Salvator, and Peninsular Black Turtle.
Pench is a heaven for bird lovers as well. The park accommodates more than 170 different types of bird species. One can easily spot mynahs, Little Grebe, pigeons, sunbirds, wagtails, minivets, bulbuls, and many more. The chirping sound of the birds fill the air and it feels like the birds are welcoming the guests. One can also spot the migratory birds and waterbirds near the artificial wetlands created by the Pench reservoir.
Guests can take the open jeep safari to explore the forest. The jeep safari often gives the thrill of sighting a big cat from close quarters. Jeep safari is one of the most loved activities and guests indulge in as apart from tigers, the safari gives an opportunity to spot numerous other birds and animals. Pench tiger reserve is filled with many species, and guests can easily spot at least a few of them.
Pench national park provides happiness to both adventurous persons and nature enthusiasts. Trip to Pench tiger reserve would be incomplete without taking the jungle safari. Nature lovers can spot numerous animals and colorful birds while adventure-seekers can get the thrill of spotting wild animals, especially the tigers quite closeby. The park is spread across both Madhya Pradesh and Maharashtra and has around seven safari zones. Each safari zone is located from 2kms to 80kms. Sillari zone and Khursapar zone fall in Maharashtra. Khursapar zone is the most preferred zone by the guests. Madhya Pradesh houses remaining zones that include Turia zone, Jamtara zone, Wolf sanctuary, Karmajhiri zone, Teliya zone, and Rukhad zone. The most preferred zone is the Turia zone.
Safari Timings:
Morning safari timings: 5.30 am to 10.30 am
Afternoon safari timings: 2.30 pm to 6.30 pm
Night safari timings: 5.30 pm to 8.30 pm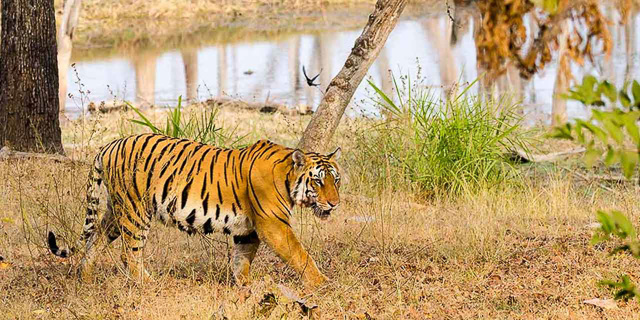 Places nearby:
Pachdhar is a small village that is 18 km away from the Turia gate. The village is known as potter's village, and guests can try pot making or buy unique and beautiful potteries.
Totladoh Dam is built on the Pench river. This place serves as a good picnic spot.
Bird and nature lovers can head to Kohka lake. The lake is beautiful, and guests can enjoy the sunset and also spot different species of birds.