Details
Rajgir is famous for its association with various dynasties, monks, and Kings. During the period of the Haryanka Dynasty, Rajgir was their capital and at that time known as Rajgriha (House of Royals).
During Mahabharata, it was called Girivraja or the dynasty of King Jarasandha who was killed by one of the Pandavas, Bhima during a wrestling match.
Rajgir is very popular among Jains and Buddhists as it was the birthplace of 20th Jain Tirthankar Munisuvrata. Both Gautam Buddha and Mahavira taught their beliefs and learnings to the people during the 5th and 6th centuries BC. Nalanda University is situated near to Rajgir where Lord Mahavira spent fourteen years of his life. King Ashoka also stayed here when he was traveling to Bodh Gaya to visit the temple where Lord Buddha attained enlightenment.
Culture:
Rajgir is very rich in culture as it is closely related to both Buddhism and Jainism. Gautam Buddha attained enlightenment near Rajgir and 24th guru of Jains was also born in Bihar and spent 14 years of his life in the caves of this ancient city. Rajgir witnessed many great people who brighten up mankind.
Today, still the majority of people in Rajgir follow Buddhism and Jainism. They go and stay in caves for meditation, take hot springs, live in monasteries, etc.
Every year in Rajgir, the tourist department of Bihar organizes Rajgir Nritya Mahotsav, and with the help of the festival, they try to show the regional as well as classical art of Indians.
To get a glimpse of Ancient India there are some places to visit in Rajgir
Griddhakuta
It means Vulture's Peak. According to Buddhist Texts, it is an ancient hill where Lord Buddha stayed. In the 19th century, Japanese Shanti Stupa was built there and it became a major attraction for both ancient and modern travelers.
Pippala Caves
It is also called as Jarasandha ki Baithak situated on Vaibhava Hills. It was used as an ideal location for meditation because of peace. It is a popular Buddhist pilgrim destination.
Jain Temples
In Rajgir, there are a total of 26 temples of Jains. Some of the Jain Temples are located at tough terrains and it is not easy to get there for common people. Some of them are Swetambar Jain Temple, Kundalpur Rishabhdev Jain Temple, etc.
Hot Springs
They are very popular among tourists and located at the foot of the Vaibhava Hills. The water of springs came from Saptdhara through spouts. Among all of them, Brahmakund is considered as the hottest.
Venuvana
Venuvana, a bamboo grove was given to Lord Buddha by King Bimbisara of the Haryanka Dynasty. It was the first Buddhist Monastery. This was the place where monks used to stay and relax during their journey.
Jivakarma Monastery
Jivaka (one of the greatest physicians of that time), donated this Monastery to Lord Buddha.
Jarasandha Ka Akhara
It is a place related to the Mahabharata period. Jarasandha, an evil warrior used to practice his martial arts skills here.
Saptaparni Caves
The first Buddhist Council took place here under the guidance of Maha Kassapa. Sometimes Lord Buddha used to stay here which makes this place famous among Buddhists.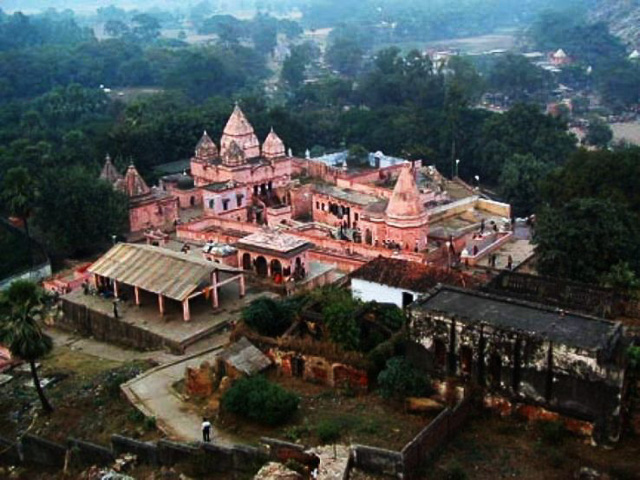 Activities in Rajgir:
Rajgir Dance Festival
Rajgir dance festival, also known as Rajgir Nritya Mahotsava, is a festival of dance and music. It started in 1986 and is a three days occasion. The festival is organized by the Nalanda Administration along with the support of the Bihar Government, which is full of classical and folk dance and classical music. From all over India participants come and participate in it. It is conducted in the month of October (last week). This festival holds a space in the hearts of tourists as they come every year to promote and celebrate the rich culture of India.
Hot Spring Bath
It is considered as hot water as it comes from the foot of Vaibhava Hills and is very pious. So tourists come and never skip the bath there. It is also a belief that hot spring baths cure many skin diseases; it passes through many ayurvedic plants and generates medicinal properties in it.