Details
Anaimudi peak (8,842 ft) on the Tamil Nadu-Kerala border is the highest peak in the Western Ghats. Other prominent peaks include Mullayanagari (6,317 ft) and Kudremukh (6,110 ft) in Karnataka and Kalsubai (5,427) in Maharashtra among others.
The area of the Western Ghats is ecologically sensitive and was declared an ecological hotspot in 1988. The mountain range is home to over 5,000 species of flowering plants, 139 mammal species, 508 bird species and 179 amphibian species which are not found elsewhere in the world.
To protect the endangered species and restrict human activities, the government has established many protected areas including two biosphere reserves, 13 national parks and several wildlife sanctuaries. The Nilgiri Biosphere Reserve is the largest protected area in the Western Ghats. Covering an area of 5500 sq km, this reserve comprises the evergreen forests of Nagarhole, deciduous forests of Bandipur National Park, Nagu in Karnataka and adjoining regions of Wayanad, Mudumalai National Park and Mukurthi National Park in the states of Tamil Nadu and Kerala respectively.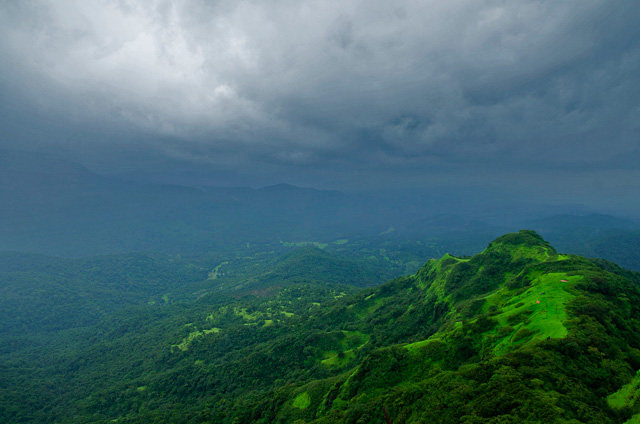 The Western Ghats are home to several endangered species such as the Malabar large-spotted civet, lion-tailed macaque, which are seen in the Silent Valley national Park and Kudremukh National Park. Other endangered animals are the Asian elephants, which can be spotted in the Nilgiri Bio-sphere reserve. Other popular mammals found in the Western Ghats are tiger, sloth bear, leopard, wild boars, sambar, black panther, Great Indian Hornbill.
Of the 508 species of birds found in the Western Ghats, about 500 can be seen in Karnataka's Bhadra wildlife sanctuary, which is located at the northern end of the Malabar ranges. Birds like Nilgiri wood-pigeon, white-bellied shortwing and broad-tailed grassbird, grey-breasted laughing thrush and many others are seen in the Western Ghats. About 102 species of fish are found in the water bodies of Western Ghats.
Hill stations like Ooty, Mahabaleshwar, Lonavala, Khandala, Munnar, Ponmudi, Wayanad are some of the several tourist hotspots in Western Ghats. Mathikettan Shola National Park, Pampadam Shola National Park, Begur Wildlife Sanctuary, Chinnar Wildlife Sanctuary, Thattekad, Phansad Bird Sanctuary and Karnala Bird Sanctuary are some of the wildlife reserves located in the Western Ghats.
Kodaikanal, Lovedale, Coonoor, Yercaud, Meghmalai, Valparai, Kumily, Thenmala, Sulthan Bathery, Ranipuram, Mattupetty, Wayanad, Idukki, Vagamon, Nelliyampathy, Vythiri, Ponmudi and Chikmagalur are some of the prominent towns located in the mountain range.