Details
The rocky terrain of Damaraland is exactly the reason why it is a great place to explore- there are several famous rock formations, ancient rock art, and paintings waiting to be discovered like the Messum Crater, which was formed due to a volcanic explosion is 20 meters in diameter and is known for the Goboboseb Mountains which sport an amazing view. If you are an explorer, there is no better place for you to pick than the Phillips Cave. A great place to hike, the cave is known for its inscriptions and paintings, especially the white humpbacked antelope painting. The Brandberg Mountain Range is one of the highest mountain ranges in Damaraland and is an amazing addition to your trip. Like the Phillips Cave, these ranges also have amazing paintings and art to enjoy.
Attractions:
These arid desert-scapes are a traveler's delight with umpteen number of places to hike, study and explore. Most of the attractions here consist of historical paintings that depict the culture and lifestyle of the ancestral inhabitants of this land.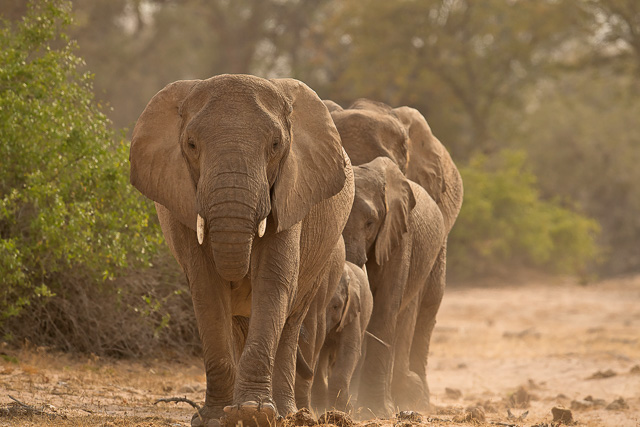 Here are some of the locations to visit in Damaraland:
Twyfelfontein: One of the most-visited locations in Namibia, Twyfelfontein is a rock-painting and carving site known for its imprints of plants, human footprints, and designs. A World Heritage site, Twyfelfontein is a hub for tourists.
Damara Living Museum: Aimed at the conservation of the Damara tribe in Namibia, the Damara Living Museum is an effort to make tourists aware of this ancient culture and to let them experience it up-close. It is situated quite near Twyfelfontein, only 10 km away.
Spitzkoppe: An adventurer's favorite, Spitzkoppe is a mountain range with a height of 1728 meters and is often viewed as a challenge to climb. It is a must-visit location on every explorer's list.
Numas Ravine: A hidden treasure, the Numas Ravine is a sought-after tourist destination in Damaraland with an amazing exhibit of ancient paintings and art of antelopes, snakes, giraffes, and other wildlife.
Other possible additions to the list include Kristall Kellerei Winery, one of the oldest wineries in Africa and Tsisab Ravine, another rock painting sight.
Desert-adapted Elephants
The terrain of Damaraland makes it the ideal choice for several of its unique endangered inhabitants like Hartmann's Mountain Zebra, Gemsbok, Eland, Black Rhino and Springbok.
The most interesting of this list is the Desert Adapted elephant. As the name suggests, the elephant is said to have certain adaptations that make it possible for the animal to survive in these harsh living conditions.
Spotting one might make the trip seem completely worth it and it isn't really difficult since their location depends on the climate of the land. Like most animals, they migrate towards water bodies and can easily be found there.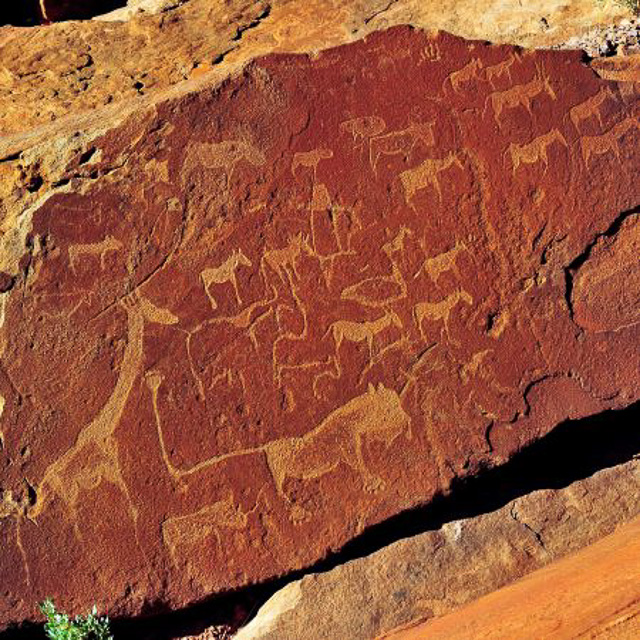 Where to Stay
Home of the Kalahari Bushmen and the Himba tribe, Damaraland has several interesting choices when it comes to accommodation.
Twyfelfontein country lodge: Located near the scenic Huab valley, the Twyfelfontein Lodge offers quaint, simple rooms, free wifi, parking, and free breakfast.
Mowani mountain camp: Close to the Damaraland living museum, this camp is set amidst mountainous terrain and offers themed rooms, open-air bathrooms, nature walks, and several other amenities.
Damaraland camp: Aiming to help you experience the authentic desertland experience, the Damaraland camp offers spacious thatched tents amongst the wilderness.
Desert Rhino Camp: The Desert Rhino camp offers a unique living experience amongst the free-roaming rhino lands of Damaraland with Meru-style accommodation and all the basic amenities available.