Details
History:
Kinnaur soil has seen a rich history and carries the whispers of great kings like Chandragupta Maurya and Kanishka. It is also a great place to hear quite a few mythological tales as it is reported that a huge chunk of historical records is missing here- hence making the Kannaura characters in a bedtime story instead of proven inhabitants. Having been a part of the Mahasu district before, it became one on its own in 1960.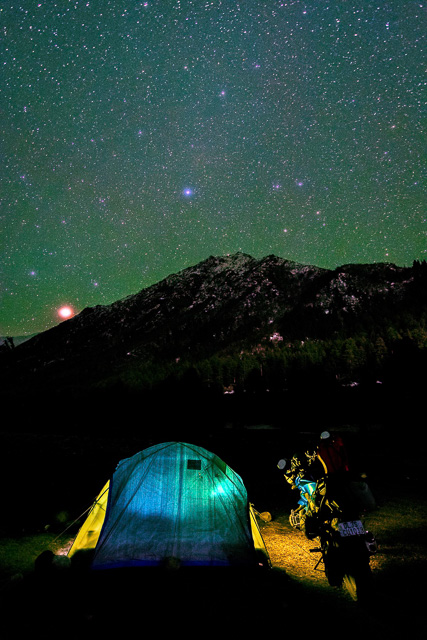 Culture:
A large part of the Kinnaur population is made up of artisans making it a great place to buy jewellery, clothes and a great place to shop for handmade items to take back home as souvenirs. The reason for this is the cultural diversity Kinnaur has among its folks- there are regional communities that each have their unique values and traditions which are often seen in their apparel, food, and social customs.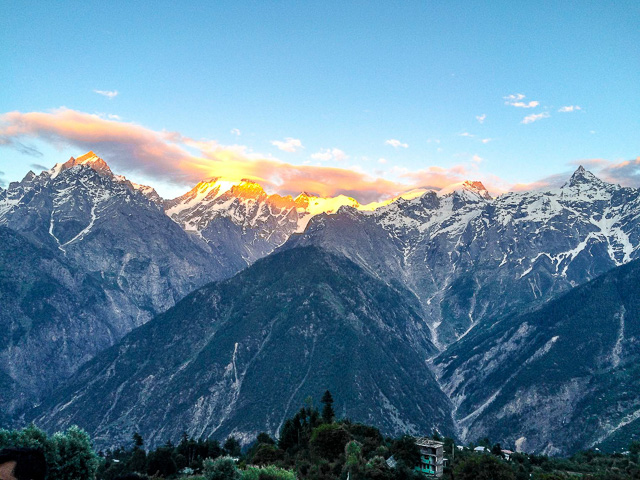 Places of Interest:
Kalpa: A small hamlet famous for apple orchards filled with the Kinnaur cash crop, Kalpa is located at the base of the snow-capped Kailash mountain near the Sutlej river. Kalpa overlooks the entire Kinnaur district and is a must-visit on the list of locations to get one of the best scenic views in the area. It is also popular amongst the religious crowd of tourists, who visit it to see the color-changing Shivling rock at Kailash peak. Because of the extremely cold climate witnessed here during the winter, the best time to visit Kalpa would be between April and July, during summer.
Kamru Fort: A very popular tourist in Kinnaur, Kamru Fort is yet another place where the view is fantastic and must not be missed. Majestic in its height, the fort is over 2600 meters above sea level and has five floors filled with several rooms. One has to pass through several gates to get here, passing by a large figurine of Lord Buddha which is a sight for sore eyes and the beautiful Kamkhya Devi fort at the top of the fort which makes the climb worth it. It is also strategically located only 2 kilometers away from the scenic Sangla Valley.
Views of Kinner Kailash Range: A largely religious location, the Kinner Kailash Range is known for its circuit trek or the 'Holy Parikrama' undertaken by devotees which start at Morang and end at Kalpa. At the end of the tour lies the Shivling which is situated at a height of approximately 4800 m. The tour is not just a religious journey but one where along with the solace of prayer, there is also solace of the soul which is brought out by the lush green scenery, gardens, and the backdrop of mountains.
Baspa River and Batseri Village: Located close to the Chung Sakhago Pass, the Baspa river gushes into the Sutlej and originates from the scenic Baspa hills. Known for the diverse species of aquatic creatures it carries, it is unsurprisingly, a popular camping destination. On it's left is the quaint Batseri village, which is where a lot of photographers find themselves exploring its rustic beauty. It is also famous for its handicrafts and Tibetan local delicacies.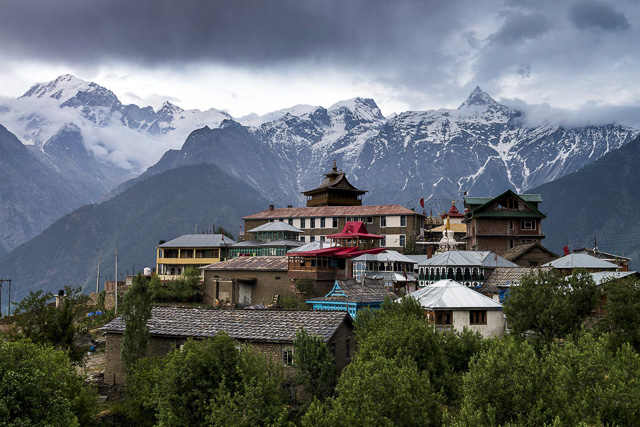 Sangla Valley: Another location famous for apples, Sangla valley also houses several saffron trees. The beautiful river valley attracts a sizable crowd for its popular flower festival or Phulaich Fair that occurs during August and September. The Bering Nag Temple dedicated to a shrine of Lord Shiva is also a well-known tourist spot here.
Lipa-Asrang Sanctuary: A nature buff's mini-heaven, the Lipa-Asrang Sanctuary is located close to the town of Moorang. From various flora and fauna to the amazing wildlife present, it is a great place to explore and a unique learning experience. It does require prior permission, so it is best to plan and ensure this beforehand.
Roghi village: Located close to Kalpa, this small village is on the list of every adventure seeker that visits Kinnaur. The distance from Kalpa, though short, is a rocky one that usually challenges hikers and adventurers. It is also a great place to get some amazing angles of the Kailash mountain.
Rupin Pass: A must-visit location for every trekker, Rupin Pass is often described as a once in a lifetime experience for people and is located close to the Kinnaur temple. Along with the scenic views of the Himalayas, Rupin Pass also connects the hikers to several tourist destinations in Kinnaur including the Jhaka Village, Pokhu Devta Temple, and Kinnaur Temple.
Borasu Pass: Connecting Baspa and Tons River valleys, the Borasu pass is a stretch of land that is said to take travellers through an ancient trade route between Har Ki Dun and Kinnaur Valley. It also covers several other tourist destinations on the way including Osla, Sankri, and Gangar Har Ki Dun.
Village of Sarhan: Called 'The Gateway of Kinnaur', the Sarhan Village is a starting point of a lot of treks and tours. It is located at a height of 2165 meters above sea level. The most popular tourist destination here is Devi Kala Temple located at the center of the village, where tourists can also observe the Jujurana bird species which are kept close by.