Details
Manas homes around 22 of the 41 Indian species considered 'highly endangered. While rhinos were earlier common, they have now been wiped out, and wild buffaloes and elephants dominate the scenery. A top highlight of Manas is the Asiatic buffalo. Huge tuskers stroll in this region across the river that divides Bhutan and the subcontinent. While tigers and leopards are difficult to spot, the clouded leopard's spotting needs luck.
The primates in the area include the capped langur and the golden langur on the Bhutan side of the river. Since both the animals are instinctively shy, they prefer staying up in high trees, away from danger. Against the flowering trees, the golden langurs are a sight to behold. It is possible, however, to cross the river at its narrowest and row across to the forests of Bhutan to sight them. The slow loris and the Hoolock gibbon are rare. Though the Assamese macaques are also limited, they can be found in large troupes in the island's downstream.
Some other wildlife creatures include the hog deer or pada, the barking deer or muntjac, the chital, and sambar. The swamp deer is seen in infrequent pockets. Though the sloth bears tend to stay in densely forested areas, they can be seen at the time of dawn and dusk. Around the rivers, it's easy to spot wild pigs and occasional otters.
The Manas National Park has a diverse habitat that is ideal for specialized birds. With the largest population of the endangered Bengal Floricans in the world, Manas is also excellent to see the Great Hornbill. TheManas National Park lists around 380 species, and Bhutan's hilly terrain can add a hundred to that total. Top birds to look for are the Greater Adjutant, the Black-tailed Crake, the Red-headed Trogon, the Swamp Francolin, the Wreathed and Rufous-necked Hornbill, the Marsh and Jerdon's Babblers, the Pied Harrier, the Rufous-rumped and Bristled Grassbird, the Hodgson's Bushchat, the Rufous-vented Laughingthrush, the Finn's Weaver, the Ibisbill, and a variety of foothills species.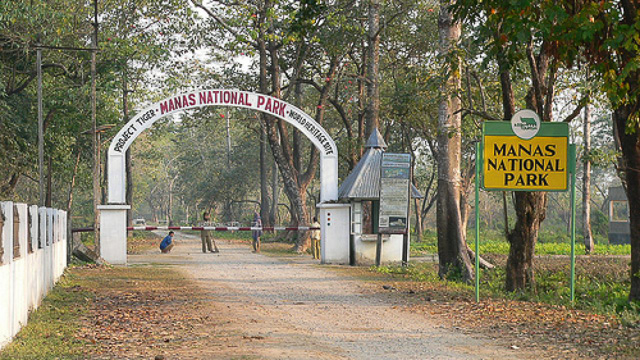 The best way to explore the natural flora and fauna of the Manas National Park is by opting for a jeep safari. The local forest department approved the open-air jeep safaris- however, a forest guide must accompany the guests.