Details
At a tour of Morondava, many activities can be carried out at various spots some of which are as follows:
Visit the Avenue of Baobabs:
The avenue of Baobabsin Morondava is one of the most visited tourist destinations of the country. At least more than two species of Baobabs can be spotted in Morondava which are endemic to the island. The Baobabs rise on either side of the roads and grow up to 30 m in height. This avenue is now declared as a National monument to prevent the trees from being cut down and even then the activities continue.
Explore the Baobabs in love:
If you are a couple on the tour then this is a must-see for you. Two Baobabs trees that grew entwined together are known as the Baobabs in love. Their closeness is the reason for them to be called lovers.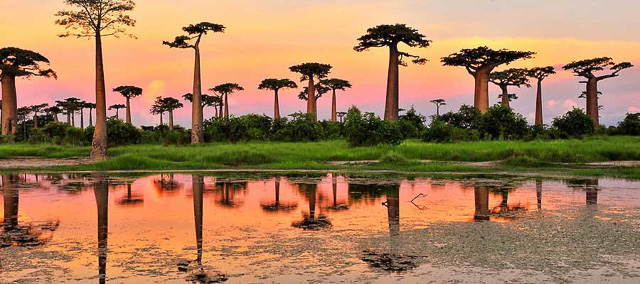 Visit Kirindy National Reserve:
At just two hours of distance from the main city, the Kirindy National park is one of the best attractions in Madagascar. The park is home to a large variety of wildlife such as birds, chameleons, many species of lemurs, and many others. Trekking is also one of the famous activities around the National Reserve.
Visit the Tsingy de Bemaraha:
This is one of the closest tourist attractions to the city and yet one of the most beautiful ones. The Tsingy de Bemaraha shows you beautiful scenery all around and the limestone peaks along with the different wildlife species just add to the beauty. The site is also included as a UNESCO World Heritage site to preserve its unique beauty. Many activities such as lemur trekking, birding, and others can be carried out at this place.
Visit the villages in Morondava:
On the tour, you will have the opportunity to visit the Vezo people of Betania also known as the fishing village. Blend in with the locals with a local guide and reach to the village in a local canoe. The canoe ride also allows you the privilege of birdwatching. Get to know the locals and their lifestyles after reaching the village.
Relax at the Morondava beach:
After various destinations and activities, you can always end up on the appealing beaches of Morondava. With many restaurants situated close to the beach, you can enjoy your dinner while looking at the fishermen carrying out their daily chores. You can go to the beach and enjoy all the beach activities that you can think of while interacting with the locals.