Details
Periyar National Park-The fact that Periyar National Park is located on the banks of River Periyar, makes the Park a unique and scenic tourist attraction. You'll have one of your best wildlife-sighting experiences right here in the Park. Set in Thekkady, the Park offers a beautiful landscape, with enviable greenery. You'd find it impossible to keep your camera lens away from the view. The wildlife is abundant and diverse, as well as unique. You'll find 59 species of mammals in Periyar and 264 bird species- these are numbers worth boasting. The elephants are the prime attraction as they're the most visible to guests, but animals like the Eurasian otters add to the charm by keeping guests fully entertained for hours. An adorable species altogether, people especially find it endearing when they stand on their hind legs to look out for any signs of danger. It's no wonder that the adorable Eurasian otters are any photographer's favorite. The Periyar National Park also houses majestic and stealthy tigers that hunt on prey, but face competition from packs of wild dogs, otherwise known as Dhole. Their packs are well-organized and coordinated; you'll hear their constant yips and whistles from across the waters and throughout the park, whenever they communicate with each other during a planned hunt. In contrast to their her-mentality, are the gaurs or wild bison who isolate themselves from the rest of the animals, and stray around the grassland areas. The wild bison lead peaceful lives and are frequently spotted, grazing on the field, by visitors on boat rides along the hillsides. If you want to catch sightings of porcupines and wild boars, you'll have to be patient and wait outside, near the forest rest houses, at night-time. These animals often come looking for food and usually check the garbage near these rest houses. Periyar National Park is a wonderful tourist site for birders, because of the vast variety of its avian inhabitants. The park houses fish-eating Great Cormorants, Darters (snake birds), Osprey, Woolly-necked Stork, Changeable Hawk Eagle. You can even spot, or at least hear the sounds of Hill Mynas, orioles and drongos, if you request your guide to simply cruise the boat, with the engine switched off, so that it's quiet enough to hear the sounds. To make the best of your visit to the Thekkady, you should either opt for bamboo rafting or the govt. run boat safari which lasts for one to two hours along the Periyar river.
Abraham's Spice Garden- TheKerala spices village is located between Thekkady and Kottam. Abraham's Spice Garden is essentially large, and everything is produced organically. You'll enjoy the quaint scent of all the spices mixing in the air, as well as the picturesque view the gardens offer. Perfect place for inquisitive visitors, the spice garden is famous for Ayurveda, organic farming, and spice cultivation. Locals often refer to these spice gardens as spice village Thekkady.
Murikkady- An exhilarating tourist spot located in Thekkady, Murikaddy provides an opportunity for the perfect picnic trip. Take your family, friends or fellow nature lovers to visit the vast spice plantations that stretch as far as the eye can see, with strong scents stimulating the senses. Try and catch the whiff of coffee, pepper, and cardamom. If this wasn't a deal-maker, there is an entire chain of hills and beautiful gardens that make the picnic spot a perfect one. If you'd been longing for a day out that brings you closer to nature, you've picked the right place!
Pandikuzhi- A scenic hill station with an enthralling view, Pandikuzhi is no less than a gorgeous tourist place in Thekkady itself. Located between Chellarkovil and the Tamil Nadu border, at a mere 5 km distance from Thekkady village, the hill station offers solace and peace. Take a break from the rat-race of the city and its traffic, by visiting this tranquil tourist spot. The gushing waterfalls, diverse flora and fauna, and the natural ambiance will sweep you off your feet. As soon as you step here, you'll sense a change- you'll feel more relaxed and alive than you've ever felt as the virgin environs fill you with a burst of energy.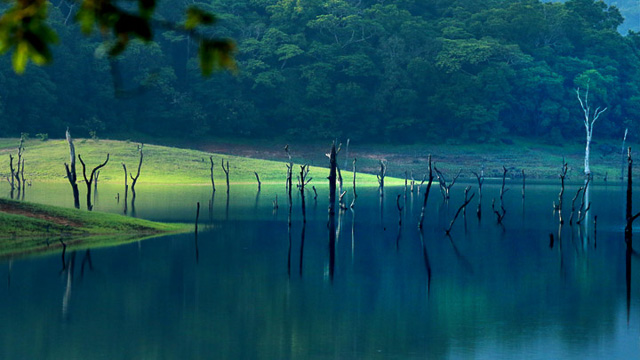 Chellarkovil Viewpoint- Thekkady is filled with tourist spots that provide a much-needed relief from our busy lives. Chellarkovil Viewpoint is one such picturesque place, abundant with scenic spots and views of nature. Watch the sunset and the sky change hues to become orange and red, with green hills standing firm and rigid as white cotton-clouds shield the tips of gigantic mountains. The entire place is riddled with waterfalls, bamboo forests, ploughed fields, colorful human settlements, and dense forests. Go on a walk by yourself, or go trekking- whatever you do, it'll be a memorable experience. Explore the wondrous Chellarkovil Viewpoint.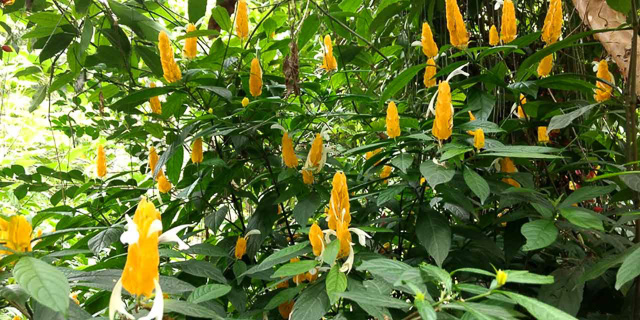 Stay in Thekkady resorts with luxurious accommodation and an authentic vibe.