Details
Quad Biking at Dune 7
Walvis Bay has a plethora of wondrous things to explore. The 130-meter high wonder, Dune7, is one of them and is sure to leave you awestruck. Dune 7 quad biking is a popular way to explore this beautiful sand structure. Climb up on top and feast your eyes upon the stunning view of the sandy landscape. Breathe in the wonderful sights and click some awesome pictures.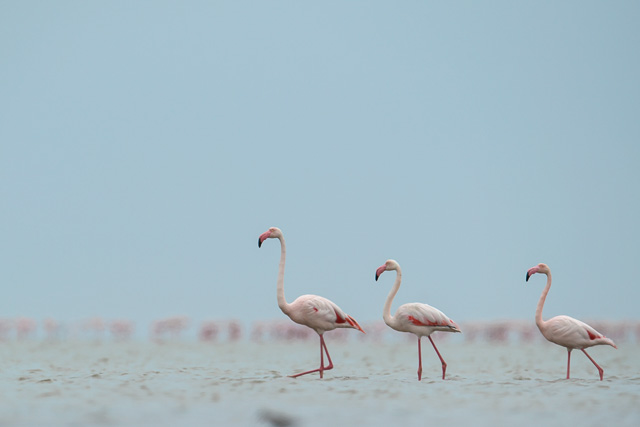 Dolphin and Seal cruise
If getting friendly with unique sea animals excites you, then the boat cruise Walvis bay is the perfect getaway for you. You can go on this boat cruise on privately chartered boats or you can avail of the public tour which starts from 8.30 in the morning. Go on a marine adventure in search of the marine big 5: Mola, Dolphins, Whales, Leatherback Turtles, and Seals. Learn more about these beautiful creatures while soaking in the beautiful serenity of the sea. Bottlenose, Heaviside and Dusky Dolphins are regular sightings. Along with them, the birds like Kelp Gull, Hartlaub's Gull, Pelicans, and Cape Cormorant also accompany you on this boat cruise. On this boat cruise, you'll also get to see many interesting ships, oil rigs, and the famous Pelican Point Lighthouse.
Spotting Flamingos in the Lagoon Tour
The varied ecological landscape of Walvis Wetlands which consists of the lagoon, salt pans, and the bird sanctuary, make it one of the most important coastal privileges of South Africa. Home to nearly 150,000 migrant birds in the summer, the Walvis Wetlands is wonderful. The most prominent of these birds are the Flamingos. The Flamingo lagoon Walvis Bay is a popular tourist destination where you get to see these beautiful birds in their full splendor. Apart from the greater and lesser flamingos, there are other rare and unique bird species present. South African Shelduck, Hartlaub's Gull, Black-necked Grebe, Chestnut banded Plover, Red-necked Phalarope, etc are some of the other bird species to be found. Other rare vagrants like Broad-billed, Pectoral and Terek Sandpipers are also seen.
Traversing the moon landscape
The tough, inhospitable and eroded view of the moon landscape offers a unique perspective on life in the desert. Eroded by time and the changing course of the Swakop River, this previously mountain range has transformed into what is known as the Badlands today. A visit to the moon landscape and the Welwitschia plains is well worth it as it offers a more nuanced face of Namibian beauty. The Goanikontes Oasis lined with Palm and Eucalyptus trees, 100's of years old Wagon Wheel tracks, historic scrap metal and so on are other must-see sights on this tour of the moon landscape.
The evenings here will be just as relaxing as the days are exciting. Take part in the sundowner experience and watch the sunset on the beautiful horizon along with some snacks and a savory glass of wine.