Details
History:
Delhi's walls bear a permanent stamp from a colorful past that is rife with legends of valiant monarchs and titanic conflicts; you can see it everywhere you walk. Delhi was formerly known as Indraprastha, the home of the Pandavas from the Hindu epic Mahabharata. From 1206 until the end of Mughal control, Delhi served as the official headquarters of the Mughal sultanate. From there, it was governed by the British until independence. An organized Delhi tour would be the best way to see it to make sure no information is missed.
Culture:
Having witnessed five centuries of monarchy, politics, and war, the city is teeming with tiny historical details and interesting origin stories. Because of the diverse cultures and traditions that exist in Delhi, sightseeing here is a true delight. The city is known for the various art and religious festivals that take place every year, some famous celebrations being Holi, Baisakhi, Shivratri, Kite Flying Festival, and a lot more.
Places of Interest:
India Gate, Delhi: India Gate is a war memorial honoring the lives of the soldiers from the British Indian Army who fought in the First World War. It is widely admired for its architectural style and has etchings of all the names of the soldiers on its walls.
Red Fort: Built by the same architect as the Taj Mahal, the Red Fort was the residence of Mughal emperors when they ruled over Delhi. It is also where the national flag is hoisted by the Prime Minister every Independence Day before the Parade.
Qutub Minar, Delhi: Called the 'Victory Tower' Qutub Minar is a UNESCO World Heritage site and a very famous and sought-after tourist spot, with its height extending over 80 feet.
Humayun's Tomb: Designed by Persian architects picked by Emperor Humayun's wife, Empress Bega Begum, this famous monument is the first one to use so much red sandstone and also the first-ever garden-tomb in the country.
Jama Masjid, Delhi: Made of red sandstone and white marble, Jama Masjid, or Masjid e Jahan Numa is one of the largest mosques in India and a must-see addition to the list of places to visit.
Lotus Temple: A beautiful sight to behold; this piece of expressionist architecture is a place of worship where people of all religions are welcome and have become a popular tourist favorite.
Akshardham Temple: A more recent addition to Delhi's attraction is the Akshardham temple which was built in 2005, Akshardham is a Hindu temple and a cultural, and educational institution.
Purana Qila: Purana Qila or Old Fort is one of the oldest buildings in the country and was constructed during the Pre-Mauryan Period.
Agrasen Ki Baoli: A moment protected by the Archeological Survey of India, the Agrasen ki Baoli is an ancient stepwell or water reservoir and a must-visit spot for photographers.
Rashtrapati Bhavan: The official residence of the President of India, the Rashtrapati Bhavan, was built in 1929 and is said to have 340 rooms.
Parliament House: Also called Sansad Bhavan, this is the official government building that holds the two houses of the Indian Parliament- Rajya Sabha and Lok Sabha.
Jantar Mantar: Made up of over 20 different instruments, this funny-looking building was an ancient sundial built in the 18th century.
Old Delhi: When Agra was made the capital of the Mughal Empire, he created a walled city called Shahjahanabad, which is now called Old or Purani Delhi. Several monuments like Jama Masjid fall under its borders, and its famous marketplace Chandini Chowk is a key attraction.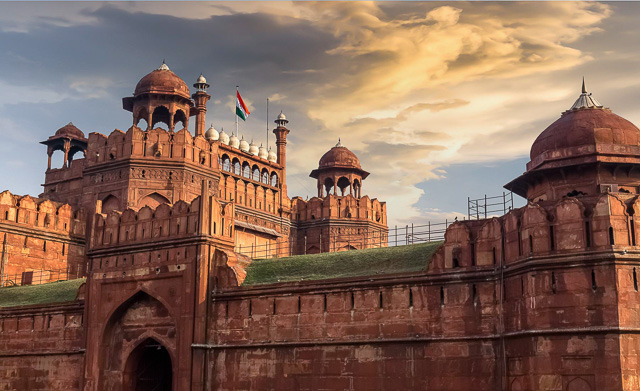 Nearby attractions:
Agra: Agra is a must-visit location if you're going to Delhi, and a good Delhi Agra tour package is best for first-time travelers. Of course, if you're going to Agra, a direct Taj Mahal tour from Delhi might also do the trick. Other historical monuments in this city include Agra Fort and Akbar's Tomb.
Jaipur: Called the Pink City because of its colorful vibe, Jaipur is one of the most popular tourist destinations in India. Easily accessible by road, it is yet another must-see location on the list.
Golden Triangle Tour (6 days) Delhi – Agra – Jaipur – Delhi: The Golden Triangle tour is a popular tour route comprising Delhi, Agra, and Jaipur that almost forms an equilateral triangle on a map-hence the name. The usually preferred mode of travel is to take the Delhi trip first, followed by Agra and then Jaipur. This Delhi Agra Jaipur tour package is often taken by travelers and is considered an ideal way for beginners to explore India. When it comes to the best places to visit, nothing beats the Delhi to Taj Mahal Interesting places to see in Agra include the Agra Fort and Itimad Ud Daulah Tomb. In Jaipur, the places to visit are Fatehpur Sikri, Hawa Mahal, and Amber Fort.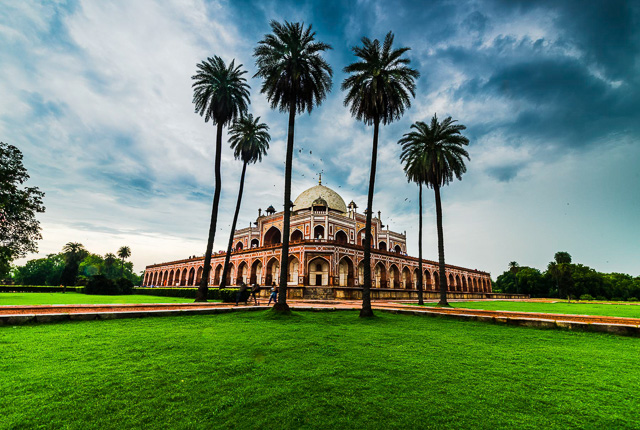 Other attractions:
Heritage Walk: Due to its rich history, Old Delhi has a lot to offer new travelers. A Heritage Walk consisting of all the marketplaces in Old Delhi like Chandni Chowk, Dariba Kalan, Kinnari Bazaar, Town Hall & Khari Baoli is a great idea for first-timers.
Delhi Food Walks: Delhi is known for its amazing and mouth-watering cuisine. Covering everything from traditional sweets, Biriyani, and Butter Chicken, to Street Food and Chat, Food Walks are a common occurrence here.
Masterji Kee Haveli: The Old Delhi Tour: The tour consists of going through the old bazaars of Chawri and Sitaram in Old Delhi and concluding with a visit to a private mansion or Haveli of a local family for a home-cooked meal.
Bazaars of Old Delhi: This is a detailed tour of all of Old Delhi's Bazaars, letting you experience up-close the true taste of Delhi's historical traditions.
Sufi music at Hazrat Nizamuddin Dargah: Famously called Qawwali evenings, these musical nights consist of spell-binding devotional music sessions.
Langar at Gurdwara Bangla Sahib: Langar is the practice of providing free meals for all as part of the service to god, followed by the Bangla Sahib Gurudwara. Irrespective of the National Holidays, this gurudwara is always open for anybody who needs a meal.
Food:
Food walks are a nice way to explore Delhi's mixed and delicious cuisine. Delhi is known for signature dishes like Butter Chicken, Nihari, Chole Bhature, and Paranthas. Street food should be explored because that is where the real taste of Delhi lies. Chandni Chowk is famous for sweets and is a great place to pick up a souvenir or two for folks back at home. Shopping No trip to Delhi is complete without a shopping expedition! The best places to shop in Delhi include Delhi Haat, Sarojini Nagar Market, Lajpat Nagar Market, Chor Bazar, and Chandi Chowk, of course. For antiques or crafty items, Meena Bazaar and Matka Market are great places to visit. How to reach
By air: The capital city is well connected to other cities in India and other nationalities. Indira Gandhi International Airport is one of the busiest airports in the city and has either DTC buses or metro trains easily connecting travelers to the main hubs inside.
By Road: A landlocked city, Delhi is connected by road to almost all the surrounding metro towns and cities including Agra, Dehradun, Manali, Shimla, and Jaipur. There are frequent State Transport Buses that facilitate easy inter-state travel.
By train: There are four railway stations in Delhi- New Delhi, Old Delhi, Anand Vihar, and Hazrat Nizamuddin stations. All stations have metered taxis, buses, and auto-rickshaws to hire and travel within the city.
Where to stay:
There are some amazing places to stay in Delhi, and the beauty of the city is such that affordability might never cross your mind since accommodation across all price ranges is available here. Some nice places to stay include:
The Imperial: Strategically located, The Imperial is a 20-minute drive from the airport and is also close to prime locations in Delhi, including Chandni Chowk, India Gate, and Jantar Mantar.
The Leela Palace: This luxury resort offers a 'modern palace' experience with its unique blend of modern architecture and traditional Indian culture.
The Oberoi: Only 2 km away from Humayun's Tomb and India Gate, The Oberoi is a luxury 5-star resort with free wifi, elegant rooms, and a 24/7 butler service.
ITC Maurya: Equipped with five restaurants, a rooftop grill, and a pastry shop, the ITC Maurya is the best choice for food lovers and is located close to the India Gate.
Haveli Dharampura: Located within walking distance from Chandini Chowk, Haveli Dharampura, is a restored palatial building built in 1887. It offers elegant and spacious rooms, free wifi, and an overall authentic traditional experience.
The Claridges: Built-in 1952, The Claridges is located close to several heritage sites, including Jama Masjid and India Gate, and offers free wifi and parking.