Details
Though Punakha seems enchantingly beautiful round the year, it seems to be at its best in the spring when Jacaranda trees that surround the dzong bloom with lilac flowers, making the palace look mesmerizingly beautiful. It is a sight that stays etched in one's heart for a lifetime. The dzong is located at a picturesque spot in between two rivers Pho Chhu and Mo Chhu.
The Punakha Dzong, thanks to its pleasing climate, is the winter capital of Bhutan. Every year, during the winter, the 'drashtang,' Bhutan's head clergy, and his entourage spend the winter in this palace.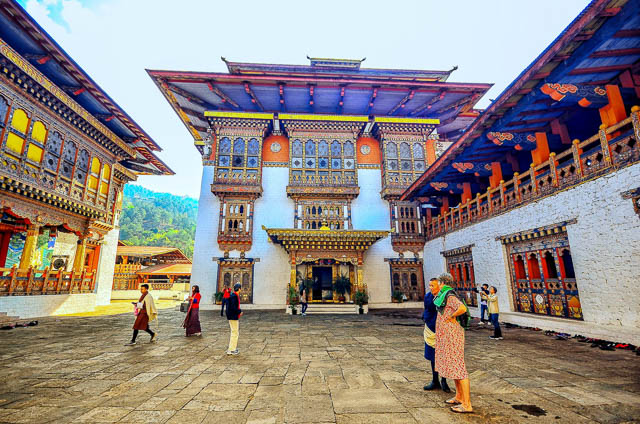 Places to visit in Punakha:
The Punakha Dzong - Any visit to Punakha is incomplete without visiting the dzong. Known for its rich history and majestic architecture, the dzong is a major attraction for visitors visiting Punakha throughout the year and especially during the Domche festival during the late winter months.
Khamsum Yulley Namgyal Chorten -If you want to spend some time in Bhutan in search of inner peace, then try to spend as much time as you can in the Khamsum Yulley Namgyal Chorten. It is a Buddhist temple built to promote peace and harmony in the world. The temple can be reached after hiking a small hill laden with prayer wheels.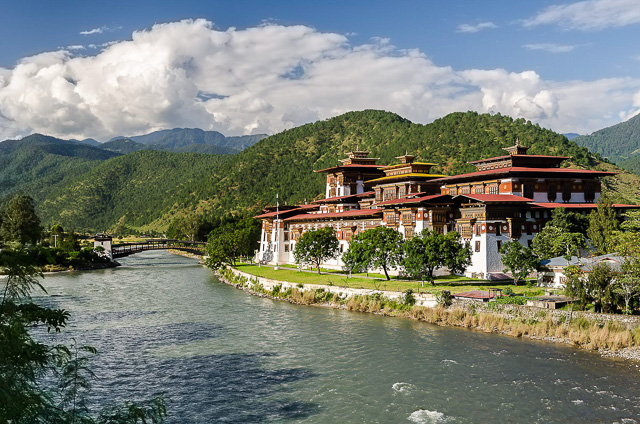 Jigme Dorji National Park -The Jigme Dorji National Park, a utopia for birdwatchers all over the world, is the second-largest national park in the country. The national park is also home to the endangered Himalayan Black Buck, Royal Bengal Tiger, and snow leopard. It has featured on the tentative list of the World Heritage Sites for a long time now. The national park is one of the major tourist attractions in Punakha.
Punakha Tsechu and Drubchen -These festivals are held in the Punakha Dzong during the month of February. In the Punakha Tsechu festival, the thongdrol of Guru Rinpoche, the sight of which is said to cleanse onlookers of all sins, is unfurled. In the Drubchen festival, a construction history of the dzong is shown to the general public.
Festivals in Punakha
Domche is the most important festival in Punakha. It is a five-day-long festival held in February or March every year. During the Domche festival, one of Bhutan's most treasured possessions, Rangjung ('Self-Created') Kharsapani, that is enshrined in the central tower of the dzong, is put on display. The scenes during the festival are a sight to behold. The final act of the festival is a masked dance performed in the dzong's courtyard.
Punakha is a mesmerizing place with loads of interesting places to visit and fun things to do. Clubbed with the warm and welcoming nature of the Bhutanese people, the experience of a vacation here, away from the pollution and hustle and bustle of the city, is truly unparalleled.