Details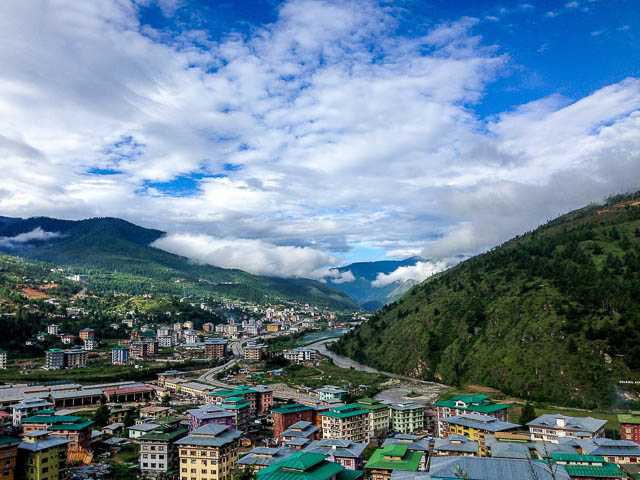 Buddha Dordenma: The Buddha Dordenma golden Buddha statue is located on top of a hill in Kuensel Phodrang. Buddha Dordenma statue fulfills an ancient prophecy discovered by Terton Pema Lingpa which is said to emanate an aura of harmony and joy to the world. The Buddha Dordenma house has 1,25,0000 smaller Buddha statues, every one of which was cast in bronze as well as gilded.
Trashi Chho Dzong: Built 1641 this monastery became the prime tourist attraction to revive the ancient beauty of Bhutan. Tashichho Dzong is also known as the fortress of the glorious region and is famous for its Thimphu Tshechu festival. The manicured garden surrounded by buildings is famous for Thimphu landmarks with almost all of the city's sightseeing tours beginning with a visit to this stunning, golden-roofed monastery.
Changangkha Lhakhang: It is the monastery founded by Lama Phajo Dugom Zhigpo in the 13th century. Newborn babies are brought to this monastery because it is considered to be the spiritual home of the Chang Valley.
Weekend Market: The Thimphu weekend market is situated at the west bank of Wang Chu River. Here you will almost find everything from handicrafts to ornament to vegetables this market is famous for its variety of selling. You will find vendors from various districts and villages selling their products.
Tango Goemba: It is the oldest place in Thimphu situated in the northern part of the Thimphu District. It is one of the major tourist attractions of Thimphu. Yarney's annual festival draws a large crowd of people from different parts of the world.
National Memorial Chorten: National Memorial Chorten is a large white tower constructed in the memory of Third Druk Gyalpo to dedicate peace and harmony in the world. Chorten means 'Place of Faith' and Buddhists also call Chorten as the 'Buddha's Mind'. It is located in the center of Thimphu city and is surrounded by beautiful paintings and intricate sculptures to showcase Buddhist architecture and artwork.
Motithang Takin Preserve: Motithang Takin Preserve was originally a zoo set in later years that became the greatest security of an endangered mountain animal called Takin. Takin is considered to be Bhutan's national animal and resembles a goat and cow hybrid. Motithang Takin Preserve is located at a short distance from Thimphu's BBS tower viewpoint. This preserve is a must-visit place if you are a wildlife lover.
Dechen Phodrang: It is a monastery situated in the north part of Thimphu city. It was established in the 12th century and serves as a Monastic School. The key attraction of Dechen Phodrang is Bhutanese artifacts.
National Library of Bhutan: The old Tibetan books and ideals are on display at the National Library of Bhutan, which was founded in 1967. The library features a Donze-like design with shelves full of scriptures that are cloth-wrapped and piled between wooden plates.
Simply Bhutan: Bhutan is a living museum that will introduce you to all aspects of Bhutanese culture. You will learn how to distill ara and how to dress in traditional Bhutanese garb. What a lovely old song the women of Bhutan used to sing as they constructed their rammed earth homes.
National Institute for Zorig Chusum: The rich cultural heritage of Bhutan was expressed via art and craft, according to the National Institute for Zorig Chusum. The National Institute for Zorig Chusum is renowned for developing the skills of individuals who have a preference for learning about Bhutanese art, tradition, and culture. The Food and Culture of BhutanThe traditional Bhutanese food is brown rice with potato, chile, and beef, and it's created with a variety of spices. Because hog and beef are so readily available, Bhutanese cuisine is a great choice for meat enthusiasts. Additionally, they provide the delectable Ema Dasti, a dish composed of veggies and chilies, for their vegetarian customers.