More Details
Begin your unforgettable Kenya Jungle Safaris with Wild Voyager, a journey filled with exciting activities like game drives, boat safaris, bird-watching, sailing close to the hippos, hiking, and even bicycle safaris. These are designed to involve you in the heart of Kenya's breathtaking wilderness. Every moment promises an amazing connection with nature.
The final leg of the tour is the perfect finish for your Kenya trip—the Masai Mara—the most sought-after safari destination in the world, rich in wildlife and biodiversity. You will get a chance to view the stunning beauty and vastness of the savannahs. To spot the Big Five animals, the Kenya jungle is the best safari destination.
These Big Five animals are only found in 11 countries, all belonging to the African continent. Witnessing them in their natural habitats is one of the iconic experiences during your trip. Each of the Big Five animals in the group is part of the charismatic megafauna. It refers to animal species that are large and often have widespread popular appeal. During an African safari, the Big Five are the most well-known among avid safari-goers.
The term 'Big Five' was first coined in the late 1800s during Africa's colonial period. The Big Five refers to those animals that were considered the most challenging and dangerous to encounter during a safari.
However, the safari of the colonial period wasn't anything like it is today. During those times, the safari was undertaken by trophy hunters to kill animals on foot. So, big game hunters killed the Big Five animals and they classified them as the most difficult animals to hunt. Fortunately, at present, the Big Five Kenya jungle safaris involve shooting these animals but only with cameras.
The Big Five group can be spotted around Africa, from Botswana's Okavango Delta to Kruger National Park of South Africa and even Namibia's Etosha National Park. But the Big Five are best witnessed in Kenya jungle safari, also home to Mount Kenya – the second-highest peak on the continent.
Along with the Big Five, travellers also have the opportunity to see other members of the Kenyan ecosystem. These include zebras, gazelles, wildebeest, giraffes, hyenas, cheetahs, and endangered species like African wild dogs and Jackson's hartebeest.
Tracking elusive leopards, admiring black rhinos from afar, seeing herds of elephants bathing, and witnessing head-strong fights between buffalos and lion pride are just some experiences that can be seen and felt during a Big Five African safari.
With its wealth of wildlife, dramatic sceneries, and beautiful cultures, the Big Five Kenya jungle safaris are one of the most popular vacation itineraries.
A BRIEF GLANCE AT THE BIG FIVE
The Big Five group consists of five different animal species. Each is special and iconic on its own. Here is a brief introduction to the Big Five found in Kenya.
African bush elephant
The African bush elephant is a large mammal with thick, almost hairless skin and a long yet flexible trunk. It is the largest mammal in the world and the biggest of the three elephant species. Despite their gigantic size, they can hide well in tall grass.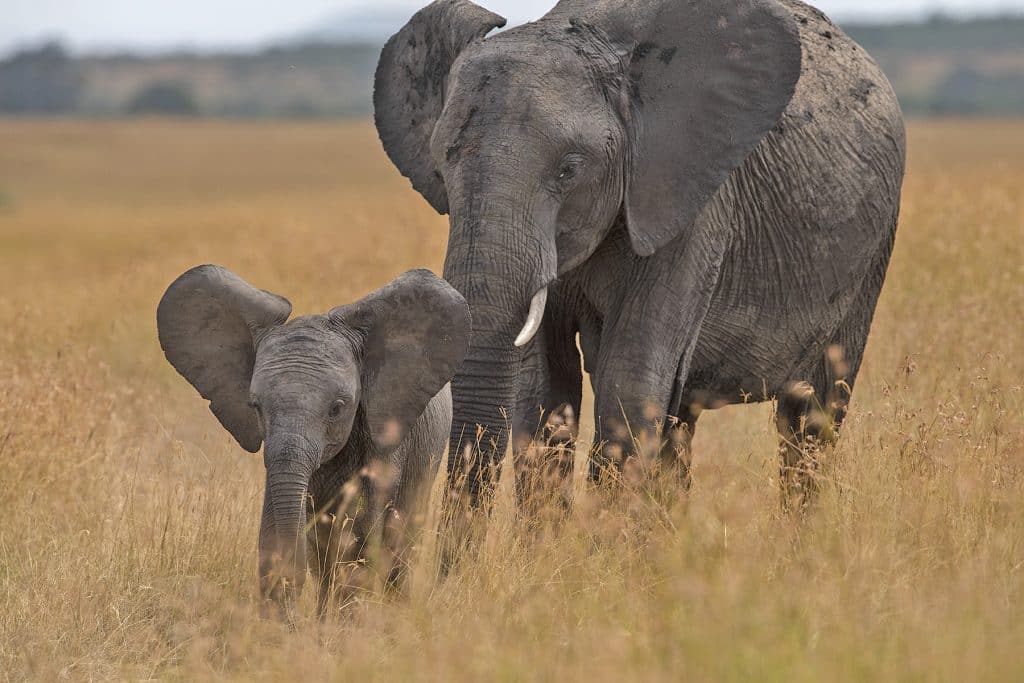 African elephants live longer than any other mammal except humans, approximately 70 years. Elephant herds are led by a matriarch – the eldest female of the group.
Lion
The African lion is one of the most social among all cat species. They are also the only cats that live in large family groups called pride. They enjoy the title of 'King of the Jungle' as lions are considered to be the fiercest and most dangerous predators on land. They use ambush and stalking techniques to hunt most of the herbivores' animals.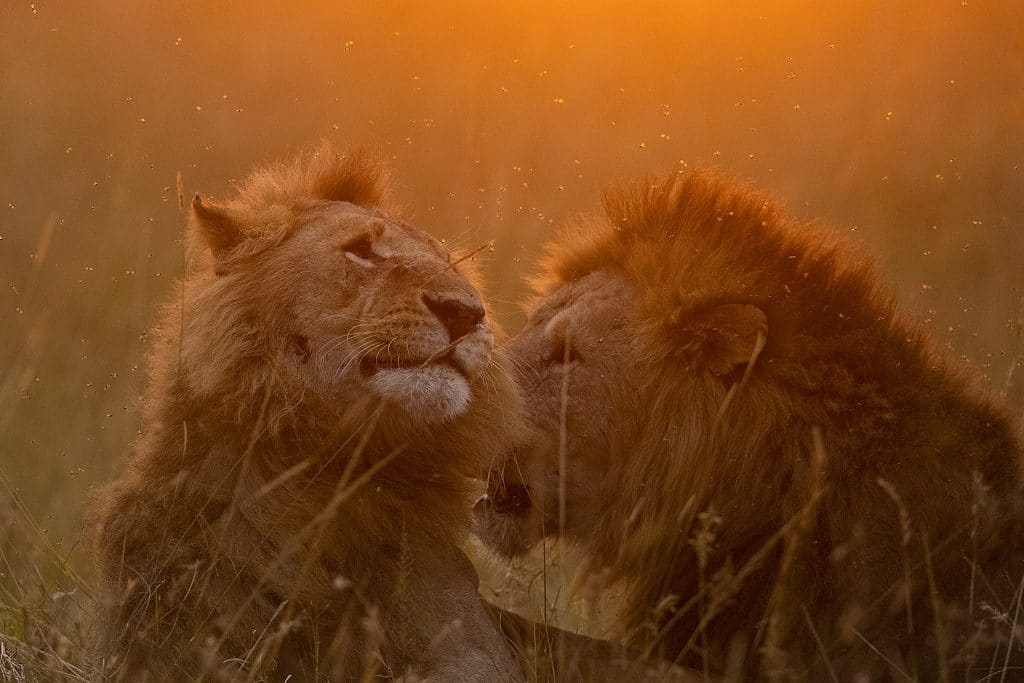 Males are distinguished from females with their big size and shaggy manes. These manes also frighten rivals, protect their throat from attacks, and attract females.
Lions are the most famous of the Big Five animals, and Kenya is home to some of the largest and most well-known pride in Africa. The Maasai Mara Reserve is particularly famous for its lion sightings, and visitors can often see lions lounging in the grass or hunting for prey.
Lions are social animals and live in groups called pride, which are usually led by a dominant male. They are also skilled hunters and can take down prey much larger than themselves, making them a fearsome predator.
Leopard
The African leopard is one of the graceful yet ferocious hunters. They are closely related to jaguars, lions, and tigers. They are also one of the most elusive and hunt during the night.
The best time to spot leopards is early in the morning or at night. During the daytime, they are particularly camouflaged behind a tree or in the undergrowth.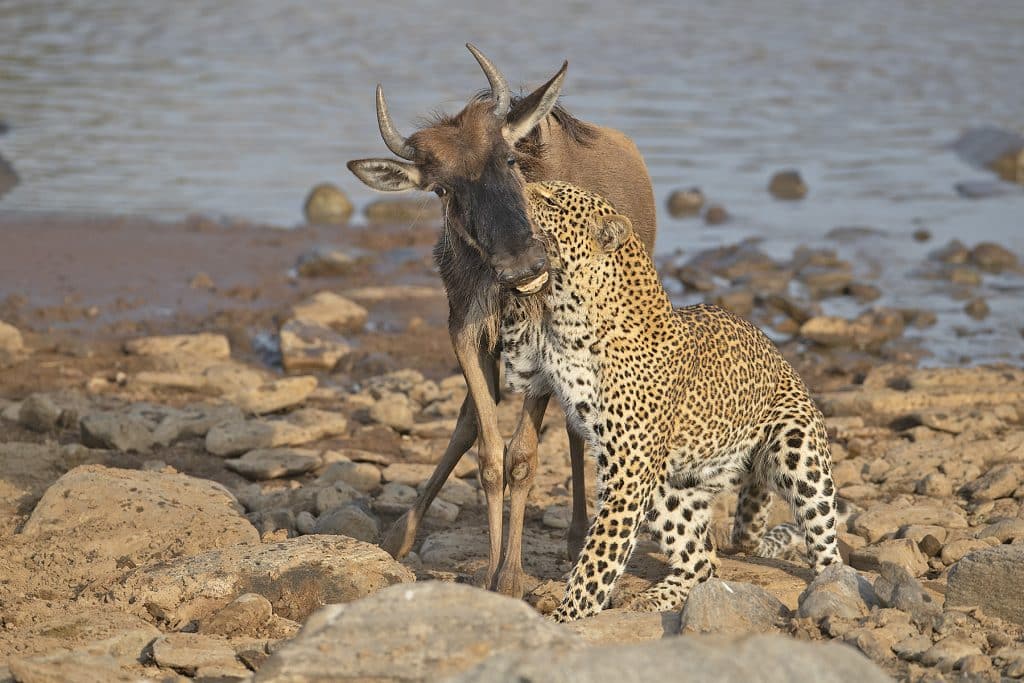 Leopards are the smallest species of the big cat family. However, they are known for their sharp hunting skills and astounding strength. A leopard's distinctive spots are known as rosettes as they resemble the shape of a rose.
Leopards are one of the most elusive of the Big Five animals and are often difficult to spot in the wild. However, they are also one of the most beautiful and adaptable animals in Africa, with their distinctive spotted coats and powerful hunting skills.
Leopards are solitary and nocturnal, making them challenging to find during the day. However, visitors on a Big Five Kenya Jungle safari may have the opportunity to see leopards resting in trees or stalking prey in the early morning or late afternoon.
Buffalo
Cape buffalo are regarded as the most dangerous of all Big Five animals when encountered during Kenya jungle adventure safaris. They are large, strong, and have an intimidating set of horns.
These animals are overly protective of their territory and feel threatened when someone disturbs them. They are known to charge with aggressive speed.
Buffalos are mostly found in huddled groups and herds. They spend most of their time grazing in floodplains and savannahs.
African buffalos are one of the favorite prey for lions. Nonetheless, due to their sharp thorns, strong hooves, and formidable defenses, they pose a massive danger to the lion and even cause serious damage. Watching real-time fights between these two is one of the highlights of a Big Five Kenya jungle safari.
African buffalos are large, powerful animals that can weigh up to 1,500 pounds. They are known for their large, curved horns and their tough, thick hides, which make them a formidable opponent for predators.
Buffalos are herbivores and graze on grasses and other vegetation, and they are often found in large herds. Visitors on Big Five Kenya safaris may see these impressive animals grazing in the grasslands or drinking from a waterhole.
Rhinoceros
Rhinoceros are an endangered species. Today, as a result of persistent conversation across various African regions, black rhinos have a current population of more than 5000.
It is a rare Big Five to see on a Kenya jungle safari and witnessing them from a distance is an extremely special venture.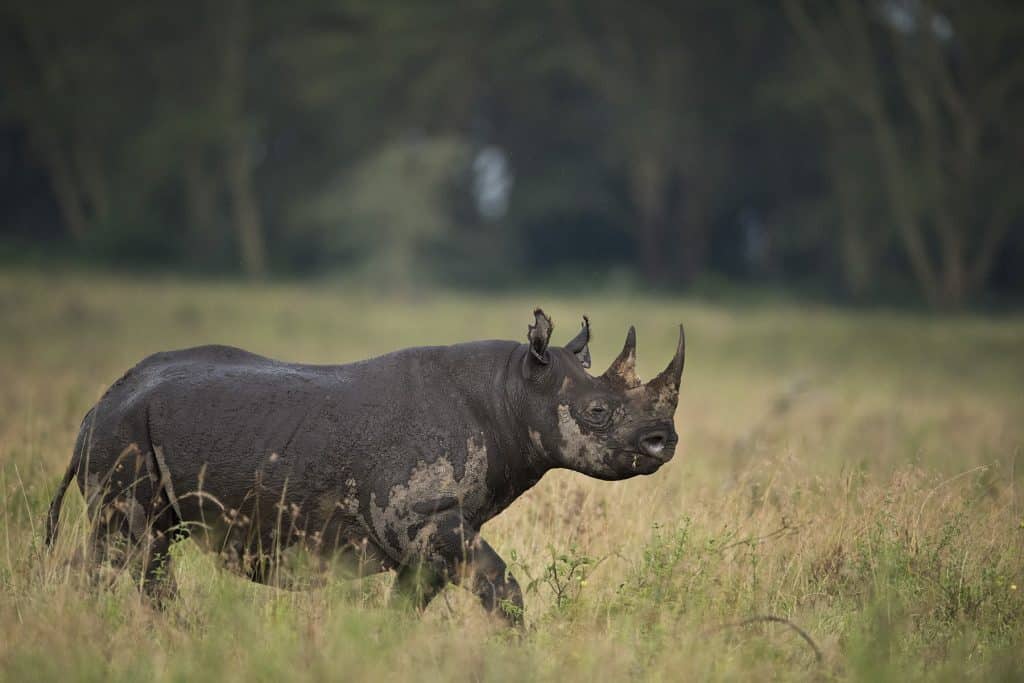 Black rhinos have hooked lips while white rhinos have a square lip. Black rhinos have two horns, occasionally a third as well, known as the small posterior horn. Both species of rhinoceros weigh at least 5000 pounds individually and their horns grow up to five feet long.
There are two species of rhinoceros in Kenya: the black rhino and the white rhino. Both species are critically endangered due to poaching and habitat loss. Rhinos are large, heavily built animals that can weigh up to 5,000 pounds.
They are known for their distinctive horns, which are made of keratin, the same material as human hair and nails. Visitors during Big Five Kenya safaris may have the opportunity to see rhinos grazing in the grasslands or resting in the shade.
Where to encounter the Big Five during your Kenya Jungle Safari
Spotting these animals is not limited to just one national park or reserve in Kenya. There are various regions where travellers can enjoy witnessing Big Five during Kenya jungle safaris. Experienced guides and rangers combined with world-class game reserves make up for a once-in-a-lifetime vacation. Here are some places to spot the Big Five animals:
Masai Mara National Park
Among all the places in Kenya, Masai Mara is the most famous jungle safari destination. It is home to the famous wildebeest migration. Other than that, the Mara is characterized by its abundance of wildlife and classic savannah views. The Masai Mara houses the Big Five African animals along with families of hippos and topi.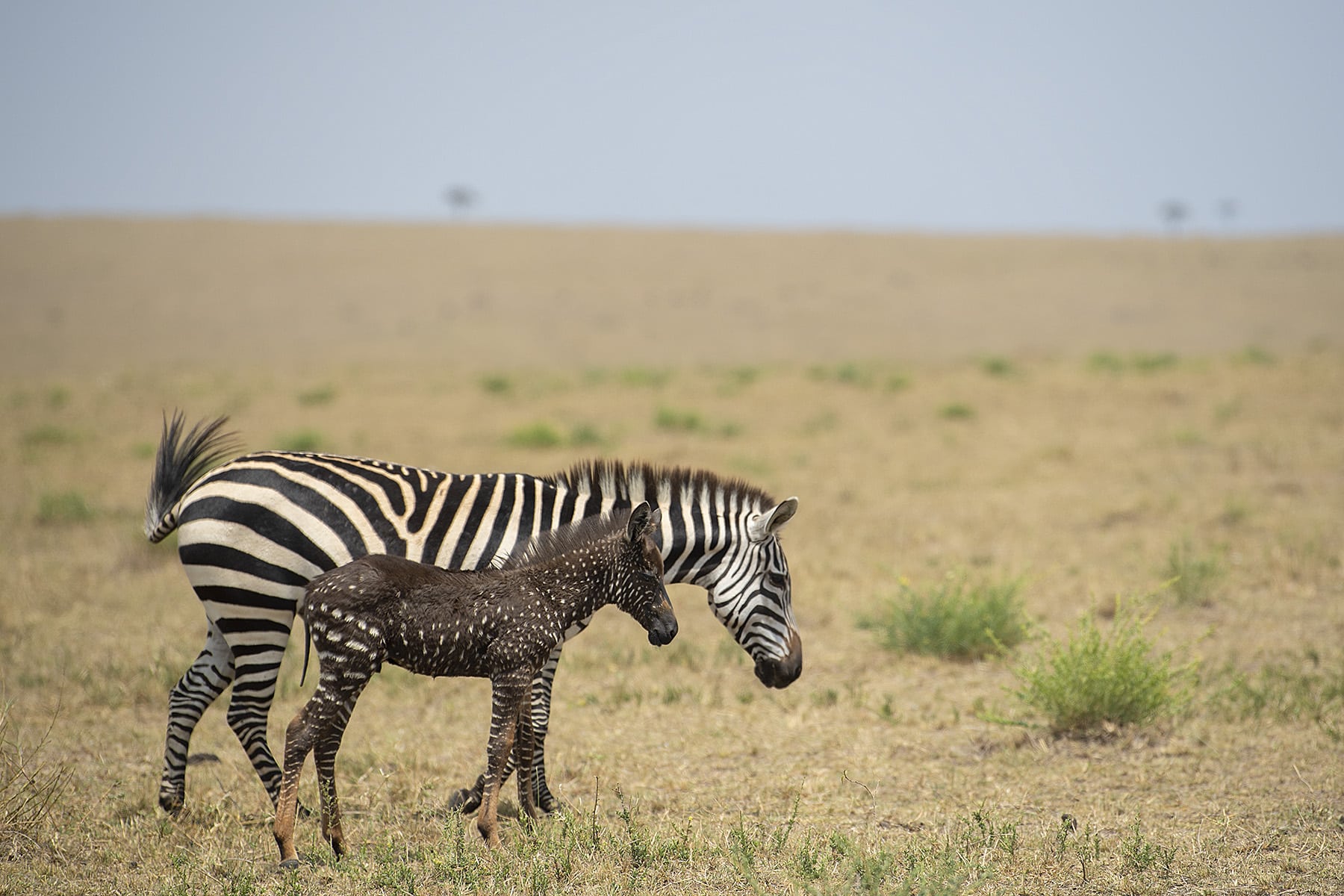 Since the park has no fences, game drives become even more adventurous and exciting. Travelers can safely spot these animals while being accompanied by guides. The park is the ideal location to enjoy walking safaris, hot air balloon rides, and bush picnics.
Tsavo National Park
The Tsavo East and West National Park are perfect for wild and exciting adventures. The Big Five sightings are always anticipated in this national park. Particularly, Tsavo West displays elephants sand bathing in red dust. This region is also an outstanding protected area in Kenya.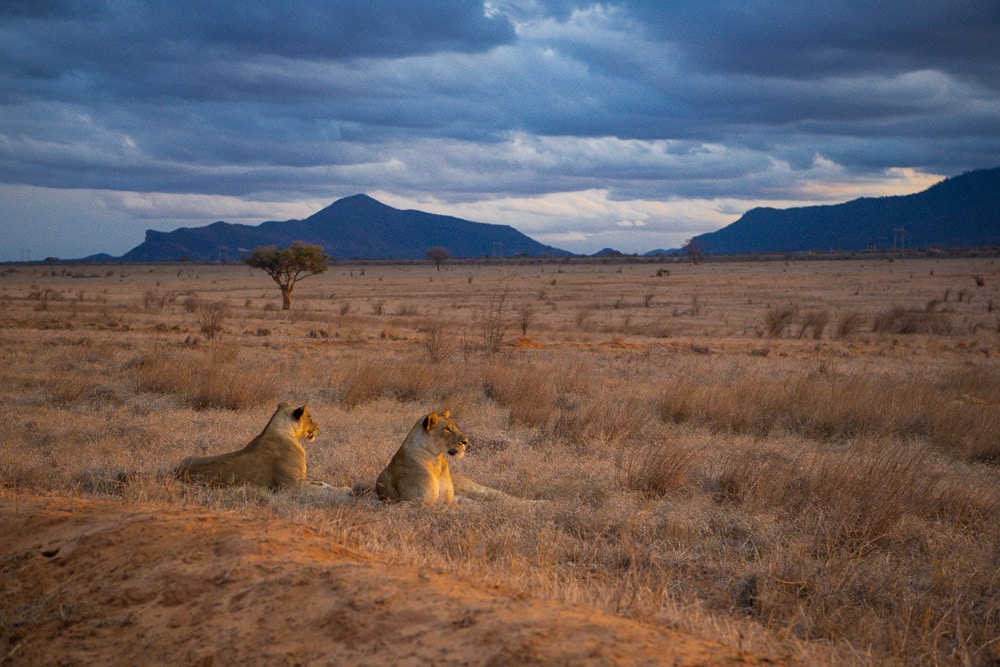 The park is dominated by various habitats. It is host to a wide range of animals and more than 500 species of birds. Being one of the oldest yet largest national parks in the county, it offers exciting tours in Kenya. Tsavo is also a lesser-known park. In Tsavo, you can enjoy Big Five sightings while being away from much of the tourist crowd.
Amboseli National Park
Amboseli is one of the popular parks, famed for showcasing aesthetic views of elephants traversing against the backdrop of magnificent Mount Kilimanjaro. The park is known as the 'Land of Giants' due to the large herd of elephants that roam the savannah. The Big Five in Amboseli is particularly famous for spot in their scenic habitats.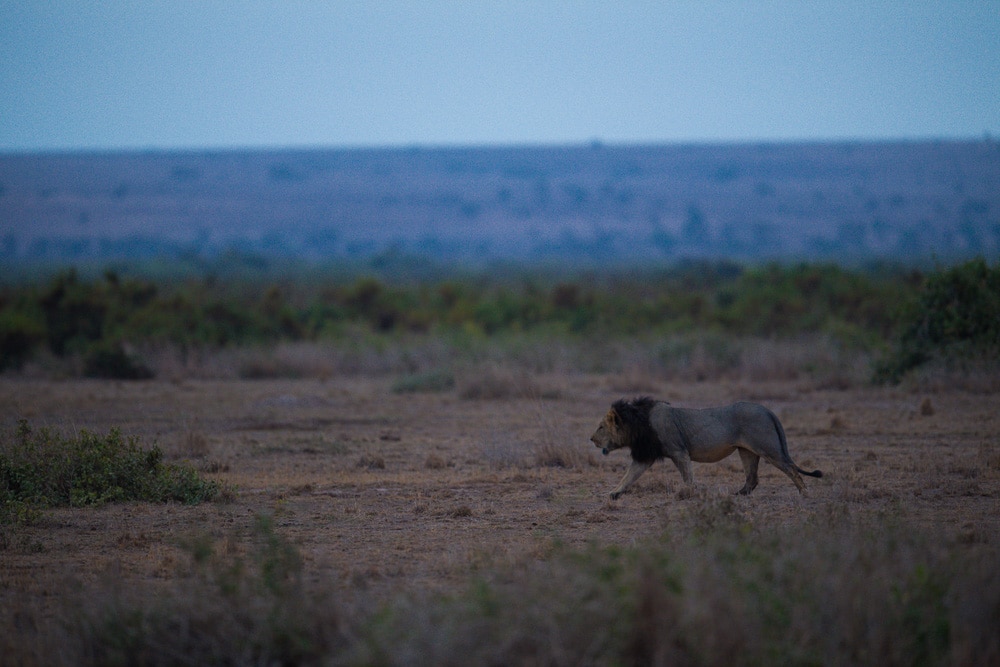 The unobstructed views of Amboseli allow for year-round wildlife viewing. Travelers can spot lions, leopards, buffalos, and even cheetahs during game drives.
Lake Nakuru National Park
Lake Nakuru is an alkaline lake and a major attraction of the park. It attracts huge flocks of pink flamingoes which make up for an incredible sight.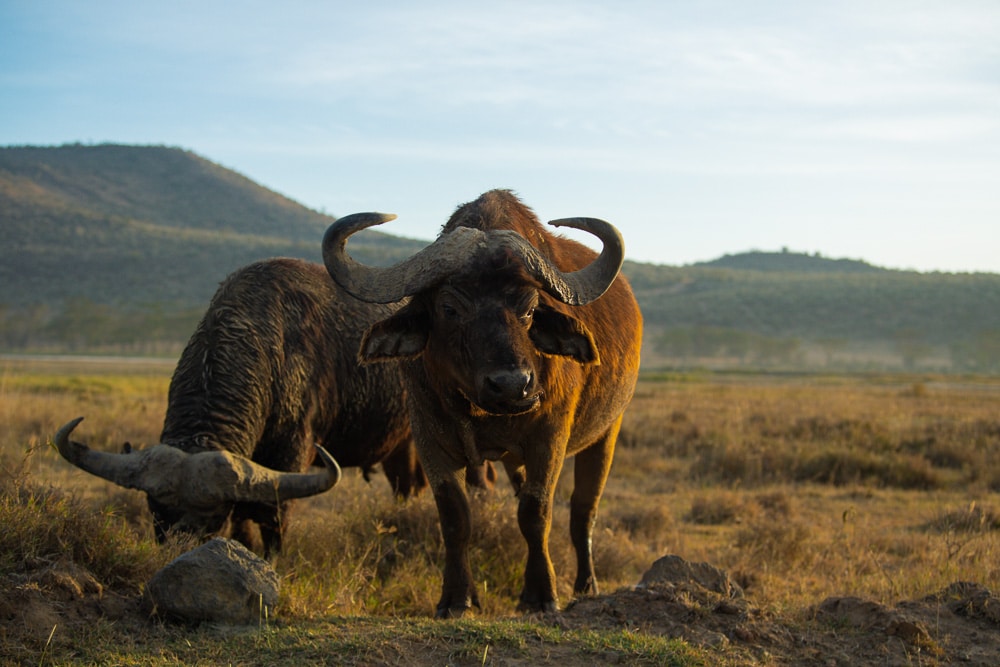 Travelers on Big Five Kenya jungle safaris are thrilled to spot rhinos grazing against the backdrop of enormous flamingoes. Near the shallow alkaline waters of the lake, millions of other birds are spotted nesting.
So, along with wildlife lovers, enthusiastic birders can also enjoy exploring Lake Nakuru. Travelers can have frequent sightings of the lion leopard, giraffe, hippo, warthog, and ostrich in the park.
Lewa Conservancy
Located in northern Kenya, Lewa Conservancy is a leading area for the conservation of wildlife and its habitats. This private wildlife reserve was first established to protect rare black rhinos and Grevy's zebra. Today, there are more than 60 animal species that roam the conservancy. Travelers can enjoy fulfilling Big Five Kenya safaris in Lewa.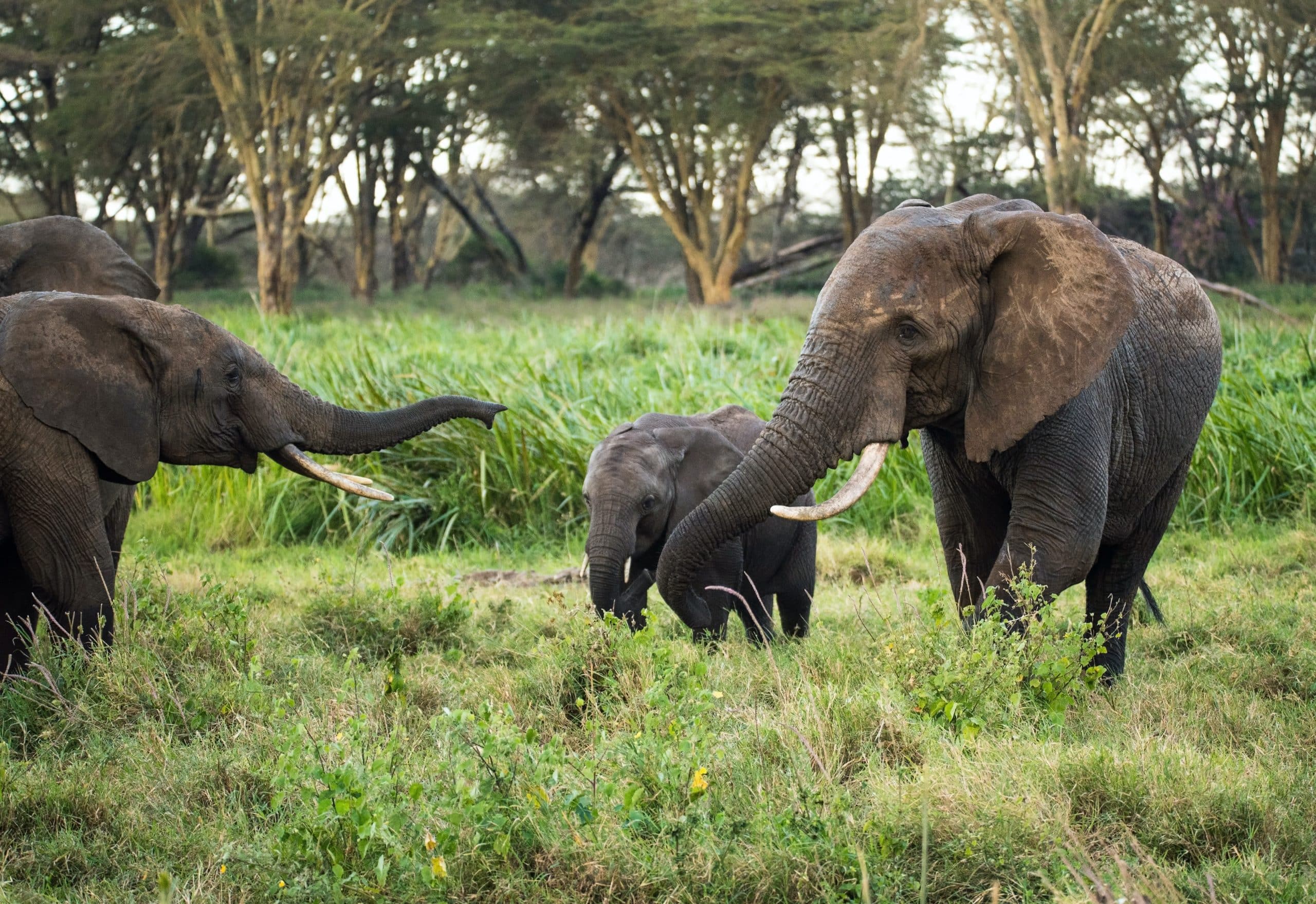 To enjoy a unique experience, travelers can also opt for horseback and cam rides. Along with the Big Five, the most routinely spotted animals at Lewa include the reticulated giraffe, eland, Beisa oryx, wild dog, and many more.
The Best Time to See the Big Five in Kenya
Each season of Kenya displays something new, making this country a year-round destination. However, the best months to spot the Big Five in Kenya are from July to October. This period in Kenya marks the peak season of jungle safari.
The vegetation becomes sparse during these months and so, spotting the Big Five becomes easier. The weather also remains favorable during these months. This way, you can enjoy your Big Five Kenya safaris comfortably.
Best Accommodation for your Kenya Junge Safari
Kenya offers world-class and incredible accommodation options. From lodges to camps, various types of accommodation suiting your taste and budget are found in Kenya. However, to watch the Big Five, we recommend the Olgatuni Camp situated in the heart of Masai Mara.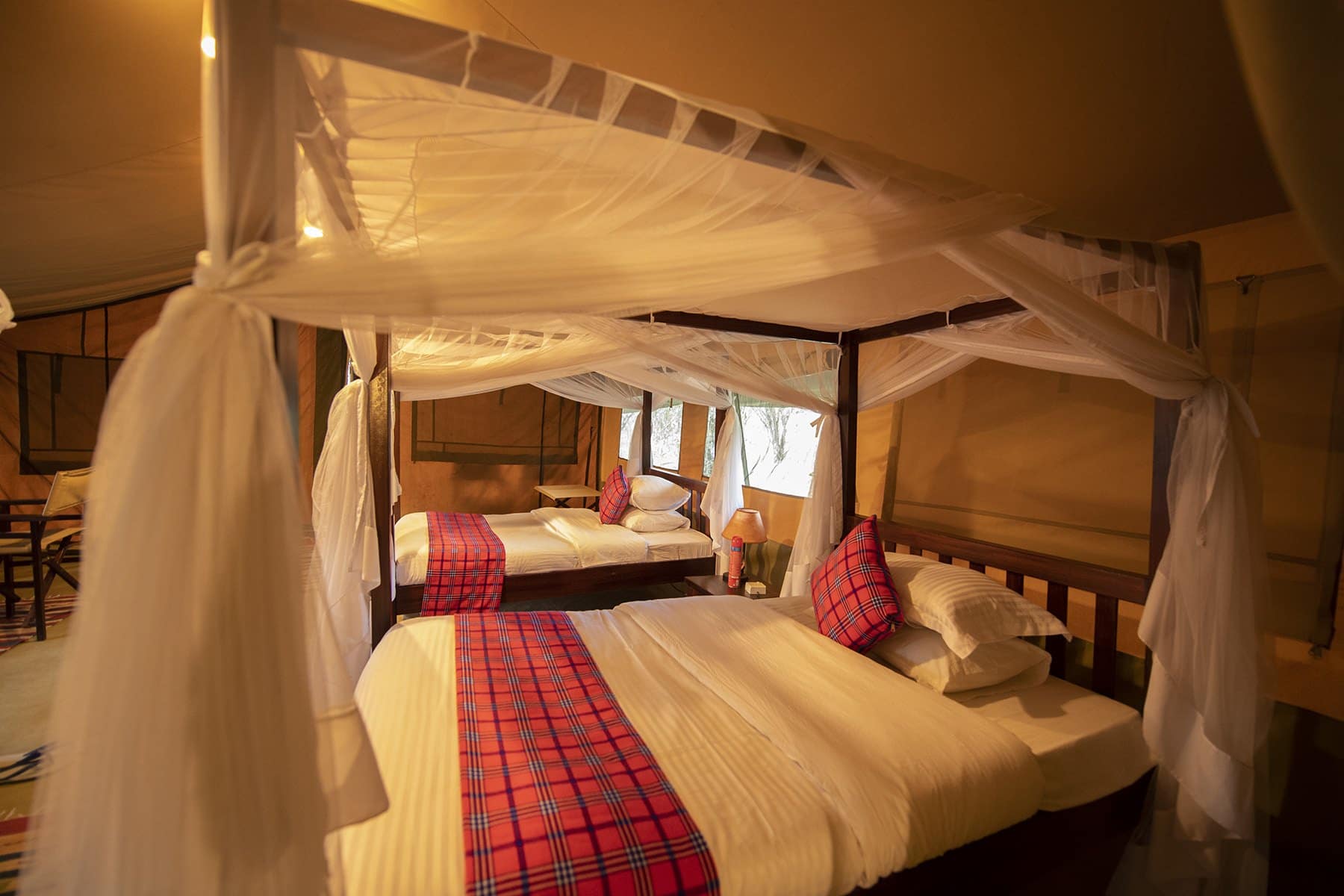 The Mara itself is the top place to see the Big Five. Furthermore, Olgatuni Camp is strategically built inside the reserve to display the best views of the surrounding animals.
Olgatuni Camp offers the most authentic experiential stay in Masai Mara. In fact, the camp is located close to a resident leopard and lion pride as well as other Big Five animals.
The camp has a rustic ambiance, offering the perfect African safari experience. Its services are high-quality and take care of every traveler's needs. It is the best accommodation to choose from in Masai Mara for rewarding Big Five safaris.
How to See the Big Five Animals in Kenya
In Kenya, many parks and reserves offer jungle safaris to witness the Big Five in their natural habitats. One of the most popular and classic ways to see Big Five animals is through game drives which take place in safari vehicles. You can also spot the Big Five during hot air balloon rides offered by selected parks and reserves of Kenya.
Going on Big Five Kenya jungle safaris is one of the most exciting vacations to consider. Talk to the experts of Wild Voyager today to enjoy customised and perfect adventure tours in Kenya.
To see the Big Five animals, the Kenya jungle is one of the best safari places in Africa. The Big Five refers to the lion, elephant, buffalo, leopard, and rhinoceros, which were historically considered the most challenging and dangerous animals to hunt.
Today, these animals are protected and revered for their impressive size, strength, and beauty, and they are a major draw for tourists visiting Kenya.
In conclusion, the Big Five Kenya jungle safaris is an unforgettable experience for anyone who loves wildlife and nature. The chance to see lions, elephants, buffalos, leopards, and rhinos up close in their natural habitat is truly a once-in-a-lifetime opportunity.
By protecting these incredible animals and their habitats, we can ensure that future generations can continue to enjoy the beauty and majesty of the Big Five in Kenya.